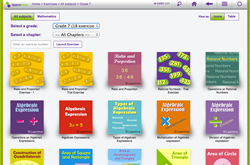 (PRWEB) August 31, 2013
Coinciding with the upcoming Fall school session, Learnhive, an adaptive learning company, is releasing Math Exercises and SmartTests for Grade 1 through Grade 8. Parents and students can register for free at Learnhive and access these U.S. CCS standards based Math exercises by using Learnhive's Personal Concept Tutor (PCT).
Based upon the individual learning needs and abilities of the student, Learnhive's Exercises and SmartTests will provide remedial, foundational and advanced help so that they can practice their concepts better, and improve their learning. Other important features include parents getting detailed reports on their child's progress, how their child's results compare to the peer group taking those tests, recommendations on math topics and skills to practice to get better results, and search capabilities for specific exercises.
The Personal Concept Tutor takes advantage of the latest technologies by providing a very intuitive, engaging, learning experience for a student, that is available across laptop/PC browser or any Apple, Android or Windows 8 based tablet or smartphone of their choice. The students can seamlessly move from learning on their iPad while traveling in their school bus, to learning on their laptop/PC when at home.
In the upcoming months, Learnhive will continue to enhance and add more exercises so that students can learn and practice the concepts better, and advance their academic outcomes in school.
Visit Learnhive, to find out more about how Learnhive is helping students do better in school. Learnhive specializes in providing after-school learning solutions that makes curriculum-based learning more effective and fun, move from rote learning to 'learning to learn', which in turn helps the students do better in school.