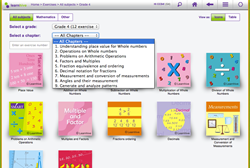 Princeton, NJ (PRWEB) September 30, 2013
Learnhive, an adaptive learning company based in Princeton, NJ, has released comprehensive Math exercises for Grade 1 through Grade 8, for an introductory launch offer of only $29.95 per year for the entire G1 - G8 Math content. Parents and students can register at Learnhive and access these Math Exercises on Learnhive's flagship Personal Concept Tutor.
Once the students log in to the Personal Concept Tutor, they will see their entire grade appropriate exercises and SmartTests so that they can practice their foundational concepts better, and improve their learning. Alongside the exercises from their current grade, they will also have access to all the Math content from other grades, so that they can access the lower grade exercises for any remedial help, or access the higher grade content for advanced enrichment. The students can also search for specific exercises based upon any Math topics and concepts.
Other important features include parents getting detailed reports on their child's progress, and recommendations on Math topics and skills to practice to improve their results after they have taken the exercises or SmartTests. The ability to print the exercises for offline practice is also being added to the Personal Concept Tutor.
Each subscription provides unlimited access to the entire Grade 1 to Grade 8 Math exercises, for the low introductory offer of $29.95 per year, instead of the regular list price of $79.95 per year.
In the upcoming months, Learnhive will continue to enhance and add more exercises so that students can learn and practice the concepts better, and advance their academic outcomes in school.
Learnhive specializes in providing after-school learning solutions that makes curriculum-based learning more effective and fun, and helping them do better in school.