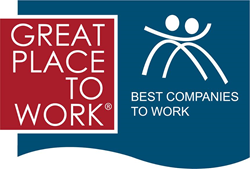 Having eXplorance recognized as a Best Workplace in Canada for the third year in a row encourages us to keep on striving for excellence as we continuously grow and improve our offering
Montreal, Quebec (PRWEB) April 22, 2016
eXplorance, the leading provider of Learning Experience Management (LEM) solutions, announces today that it has been listed as one of the Best Workplaces in Canada for the third consecutive year.
The coveted Best Workplaces in Canada list is determined by the Great Places to Work Institute®, the premier international research, consulting and training firm to assist organizations of all sizes in creating positive work environments. The Best Workplaces in Canada award recognizes 100 large and medium-sized companies who have demonstrated exceptional leadership and mentorship of employees, fostering a culture of trust, pride and camaraderie.
eXplorance was ranked 27 in the category of Best Workplaces in Canada: Medium. The award is a testimony to eXplorance's commitment to continuous improvement within the workplace. The Montreal-based company continues to increase its range of software solutions and global expansion, having opened new offices in South America and Asia-Pacific to better serve its growing global clientele.
"As a company, we are proud of our achievements and we are even prouder of our culture," says Samer Saab, CEO of eXplorance. "Without our dedicated team, we would not be where we are today. Having eXplorance recognized as a Best Workplace in Canada for the third year in a row encourages us to keep on striving for excellence as we continuously grow and improve our offering," Saab elaborates.
To find out more about eXplorance's award-winning workplace culture, consult eXplorance's About Us page.
About eXplorance
eXplorance, a Learning Experience Management (LEM) solutions provider, empowers organizations in making the right decisions with fact-based learning analytics. eXplorance's offerings, Blue® and Bluepulse®, help instill a culture of continuous improvement by assessing, analysing, and improving stakeholder needs, expectations, skills, knowledge, and competencies.
Founded in 2003, eXplorance is a privately held corporation based in Montreal, Canada with offices in APAC, Europe, and Latin America. With employees working across the globe, eXplorance is renowned for its strong company culture and is deemed one of the Best Workplaces in Canada by the Great Places to Work Institute®. Recognized for its growth, technical innovation, and entrepreneurship, eXplorance is listed in Deloitte's North American Technology Fast 500™.
eXplorance's clients include academic institutions such as the University of Melbourne, University of Pennsylvania, University of Toronto, Zayed University, Del Mar College, Bowdoin College, IESE Business School, Xi'an Jiaotong-Liverpool University, UDLAP, and Liverpool John Moores University and organizations including Aramco, National Bank of Canada, and NASA.