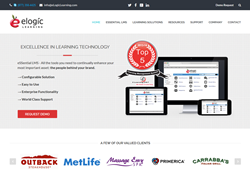 The world of technology is constantly changing, and it was important for us to update our website to reflect how much our learning management system has evolved
Tampa, Florida (PRWEB) November 25, 2014
eLogic Learning (eLogic), award-winning learning management system (LMS) and learning solutions provider, announces the launch of the company's redesigned website. Redesign efforts were initiated by the need to showcase eLogic's refreshed corporate branding and to create a more intuitive navigation so visitors can quickly find the information they're looking for.
"The world of technology is constantly changing, and it was important for us to update our website to reflect how much our learning management system has evolved," says eLogic Learning Vice President of Sales Aaron Olney. "We have a wide range of solutions to help organizations achieve any learning and development goal they have. With our new website, those solutions and detailed resources about how we can help clients reach their goals are much easier to find."
eLogic's redesigned website features a number of updated resources and new pages for recently launched offers, including:

The redesigned eLogic Learning website features a page with more details about a special offer now available to qualifying new LMS clients: eSSential Plus. Highlights of the eSSential Plus offer include an eLearning content bundle of over 120 courses, a custom course developed by eLogic Learning, and Claro authoring software included with the eSSential LMS at no additional charge.
eLogic Learning has a fantastic collection of case studies that detail current client's success stories resulting from implementation of the eSSential LMS along with eLogic Learning's professional services. The case studies can now be easily sorted by industry so visitors can quickly find the information they're looking for.
eSSential LMS Training Webinars
The Training Webinars are 30 minute sessions to give clients or anyone interested in the eSSential LMS detailed information about specific LMS functionality. Sessions have included lessons on how to use the LMS email campaign feature to promote training opportunities, how to simplify complex data into easy-to-read reports and more. The next session on December 11 will cover how to set up specific security rules to restrict LMS access.
The eSSential LMS Feature Tour has been enhanced with multiple screenshots, allowing visitors to see the eSSential LMS firsthand. When they're ready to see more, visitors can fill out the live demo request form right on the sidebar of the page to get started.
View the redesigned eLogic Learning website at elogiclearning.com.
About eLogic Learning
For more than a decade, eLogic Learning (eLogic) has been providing excellence in Learning Management Systems (LMS) as a recognized leader in the eLearning industry. The eLogic eSSential LMS supports over five million monthly users and was named a Top 5 LMS by E-Learning 24/7 and Top 20 by Capterra in 2014. The eSSential LMS makes it easy to manage eLearning, instructor-led and virtual training events, keep up with regulatory compliance requirements, analyze training usage and results, sell courses online with robust ecommerce features, and much more.
In addition to its Learning Management System, eLogic develops custom eLearning content and provides an extensive third-party courseware library. With a comprehensive turnkey approach to implementing learning strategies, eLogic offers professional services and proven expertise in content strategy, business process change and the development of corporate training programs.