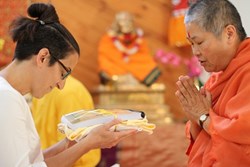 Grass Valley, California (PRWEB) October 28, 2013
In the Forgive for Good workshop and class series Dr. Frederic Luskin presents the forgiveness training methodology that has been validated through six successful research studies conducted through the Stanford Forgiveness Projects. For more information, please visit http://www.sivanandayogafarm.org/course.php?course_id=1030
Prior to the current surge in research interest the importance of practicing forgiveness was extolled in both religious and psychological traditions. Recently, Dr. Luskin's and other's research has confirmed its virtues in the promotion of psychological, relationship and physical health. Forgiveness has been shown to reduce anger, hurt, depression and stress and lead to greater feelings of optimism, hope, compassion and self-confidence.
Dr. Luskin's work combines lecture with a hands-on approach to the ancient tradition of forgiveness. Participants explore forgiveness with the goal of reducing hurt and helplessness, letting go of anger and increasing confidence and hope as they learn how to release unwanted hurts and grudges. His presentations explore the HEAL process of forgiveness that, when learned, can lead to enhanced well-being through self-care. In class practice may include guided imagery, journal writing and discussion all presented in a safe and nurturing environment. Dr. Luskin holds a Ph.D. in Counseling and Health Psychology from Stanford University.
About Sivananda Ashram Yoga Farm
In 1971, Swami Vishnudevananda returned to California and founded the third ashram in the young Sivananda International organization: the Sivananda Ashram Yoga Farm on 40 acres of land located in the Gold Country of the beautiful Sierra Nevada Foothills in Northern California. The non-profit, non-sectarian ashram offers yoga classes, retreats and teacher training courses for students of all abilities. For more information, please visit http://www.sivanandayogafarm.org. A retreat is also offered in meditation vietnam, as well as Yoga Nidra courses.