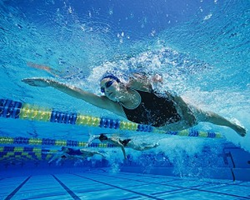 The report introduces to readers simple yet unique methods on learning how to swim within a short period of time.
Seattle, WA (PRWEB) March 06, 2014
The new "Tips On Learning How To Swim" report on the website Vkool.com delivers helpful techniques to swim professionally. In the first part of the article, people will discover common swimming mistakes, such as bad breath timing, flat swimming, and wrong kicking. In fact, the most common mistake all around is improper head position. When people raise their head in order to be able to see, it causes their hips to automatically drop. As a result, they will swim lower in the water, enhancing resistance and slowing them down. The easiest way to fix this problem is to find something on the bottom of the pool to watch. After that, the author reveals that swimming flat is one of the most common mistakes made in the water. It might put a lot of pressure on swimmers' upper body and harm the length of their stroke. Next, in this report, people will get to know that breathing too early during the stroke is another popular swimming pitfall. The writer advises readers that it is easy to start their breath when their hands enter the water to start the pull part of the stroke. Then, they should finish the breath when their hands exit the water. It can help promote higher quality, more efficient inhalation.
In the second part, readers will learn some innovative swimming tips. Furthermore, the report also indicates that marathon swimmers and surfers who practice in cold water regularly use ear plugs to limit irritation and prevent ear infections. In other words, the writing supplies readers with many safe swimming techniques. Thanks to the helpful information in the "Tips On Learning How To Swim" report, a lot of people can improve their swimming skills with just some simple steps.
Maria Dang from the website Vkool.com comments that: "The 'Tips On Learning How To Swim' report is informative and includes cutting-edge tips to swim professionally. Additionally, the tips delivered in this post are easy-to-apply for most people regardless of their swimming experience."
For more information from the "Tips On Learning How To Swim" report, visit the website: http://vkool.com/learning-how-to-swim/.
_____________
About the website: Vkool.com is the site built by Tony Nguyen. The site introduces to readers a variety of articles about many topics including fitness, health, lifestyle, and entertainment. People can send their feedback to Tony Nguyen on any article via email.