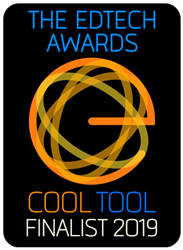 "For students with reading deficits it is critical to have an integrated learning experience rather than dealing with different apps to complete assignments. This recognition reinforces our commitment to doing everything possible to level the playing field for struggling learners."
PRINCETON, N.J. (PRWEB) April 25, 2019
Learning Ally, a leading education solutions organization, today announced that its reading app has been selected as a 2019 EdTech "Cool Tool" Awards finalist in the category of special needs/assistive technology solution.
The Learning Ally reading app gives students with dyslexia and other learning differences anywhere/anytime/any device access to an extensive library of human-read audiobooks, including age-appropriate fiction, literature and textbooks. It is currently used by more than 375,000 students nationwide.
Available to students in grades 3-12 in schools that use Learning Ally, this versatile app promotes independent reading inside and outside of the classroom and enables students to manage all aspects of their reading experience in one place. Student-centric features include notetaking, a built-in dictionary, sharing and customization.
Terrie Noland, VP of Educator Initiatives at Learning Ally, said, "For students with reading deficits it is critical to have an integrated learning experience rather than dealing with different apps and support tools to complete assignments. Our reading app does this effectively. This recognition reinforces our commitment to doing everything we can to level the playing field for more struggling learners."
For nearly a decade, the EdTech Awards have been celebrating individuals, organizations and solutions that are transforming today's educational landscape. Andrew Friedman, President and CEO of Learning Ally, was named a 2018 EdTech Leadership Award finalist for global leadership.
About Learning Ally
Learning Ally is a leading education solutions organization committed to transforming the lives of struggling learners. The Learning Ally Audiobook Solution is a proven reading accommodation comprised of human-read audiobooks, student-centric features and a suite of teacher resources. Used in more than 17,000 schools nationwide, this solution helps students with reading deficits become engaged learners and reach their academic potential.
For more information, visit LearningAlly.org.