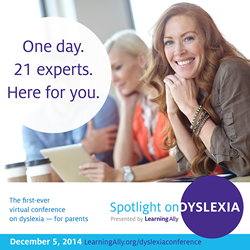 I'm thrilled to have a role in this event with so many leading specialists in the literacy and learning fields, and look forward to sharing my belief that all children can learn and thrive.
PRINCETON, NJ (PRWEB) November 11, 2014
Learning Ally, a nonprofit organization serving individuals with visual and learning disabilities, is hosting Spotlight on Dyslexia, a live, online conference for parents of children who struggle with a reading disability.
The conference features over 20 acclaimed national experts speaking on a wide range of subjects intended to help families navigate the education system and find solutions for their child's individual needs. Their sessions will be highly interactive, with content suitable for parents of newly diagnosed children as well as families who are looking for a deeper understanding of topics such as accommodations, legal rights, assistive technology and more.
New York-based fashion designer Dana Buchman, founder of Promise Project, is the conference keynote speaker and will share her insights on raising a daughter who has dyslexia. "My family's journey taught me so much that I'm now putting my energy into helping other parents of children with learning disabilities," Buchman says. "I'm thrilled to have a role in this event along with so many leading specialists in the literacy and learning fields, and look forward to sharing my belief that all children can learn and thrive."
A partial roster of headlining speakers at Spotlight on Dyslexia includes:

Susan Barton, founder of Bright Solutions for Dyslexia, presenting "Our Kids Need More Than Tutoring."
Tracy Block-Zaretsky and Kelli Sandman-Hurley, co-founders of the Dyslexia Training Institute, presenting "Tips for Creating the Most Optimal IEP" and "Structured Word Inquiry and Dyslexia."
Sheila Costello, president, board of trustees, Academy of Orton Gillingham Practitioners and Educators, presenting "What is the Orton Gillingham Approach and How Does it Differ from Traditional Reading Instruction?"
David Flink, co-founder and CEO of Eye to Eye, a national mentoring organization for student with learning disabilities, presenting "Thinking Differently: Reframing Learning for a New Generation."
Ben Foss, entrepreneur and author of "The Dyslexia Empowerment Plan," presenting "Strengths, Not Shame: Understanding the Strengths That Come with Dyslexia and Related Profiles."
Jamie Martin, assistive technology consultant and trainer, presenting "Playing with a Full Deck: Using Assistive Technology to Study Vocabulary."
Barbara Wilson, cofounder and president of Wilson Language Training, presenting "How the Common Core Standards Impact Individuals with Dyslexia."
The event will be held on December 5, 2014, with a registration fee of $89 prior to November 23. A discount fee of $59 is available for Learning Ally members.
For more information or to register for the conference, visit http://www.LearningAlly.org/dyslexiaconference.
About Learning Ally
Founded in 1948, Learning Ally has helped millions of K-12, college and graduate students, veterans and lifelong learners – all of whom read and learn differently due to blindness, visual impairment, dyslexia, or other learning disabilities. Through its support programs and audiobooks, Learning Ally enables families and teachers to help students thrive and succeed. The organization provides support to parents and students through events, webinars, personal consultations and other tools; and integrated learning management systems and professional development for teachers. In addition, Learning Ally's collection of 80,000 human-narrated audio textbooks and literature titles can be downloaded on mainstream smartphones and tablets, and is the largest of its kind in the world. As a 501(c)3 nonprofit, Learning Ally is partially funded by grants from state and local education programs, and the generous contributions of individuals, foundations and corporations. For more information, visit http://LearningAlly.org.