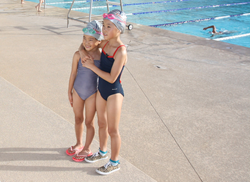 "Swimming is a fundamental skill for any aquatic recreational activity," states Vassallo. "It is also an important and often required skillset for many jobs and careers."
Las Vegas, NV (PRWEB) June 05, 2017
Float Like a Duck™, water safety initiative is expanding its positive messaging by launching the "Learning to swim, led me to..."™ PSA campaign. The campaign was created to inform and inspire youth about exciting adventures and career opportunities one can enjoy from learning how to swim.
The multi-series, PSA video campaign showcases a wide-range of individuals and groups from around the Southern Nevada community who credit their path to personal growth, success and accomplishments in sports, academics, recreational activities and careers from learning to swim. The first of the PSA series -Our Friends was released Memorial Day Weekend in conjunction with National Water Safety Month (May) and the 14th annual Float Like A Duck event.
https://youtu.be/WEw70RXMwjE
Program presenter, water safety activist Joseph Vassallo, CBP and his sidekick Duckie the Mascot introduce the PSA, that was created and produced by Publicist Mary Vail, MBA. Assisting Vail with production was KOI Visual who provided videography, editing and sound.
"Swimming builds physical strength and endurance," notes Vassallo. "Achieving the ability to swim also builds character and bolsters one's confidence to try other activities."
From a dolphin care supervisor, to a robotic surgeon, competitive swimmers, military personnel, professional mermaids, water polo players, synchronized swimmers, pool personnel, swimming coaches, show performers, first responders, a scuba diver and others, express how swimming has played and continues to play an integral part of their career, life and lifestyle.
Over two-dozen individuals and groups welcomed the opportunity to share their message, volunteering their time and talent to encourage others with positive messages about swimming. For their participation in the PSA Videos they were named official Aqua Ambassadors.
"Swimming is a fundamental skill for any aquatic recreational activity," states Vassallo. "It is also an important and often required skillset for many jobs and careers." For Vassallo, swimming was a mandatory skill needed for him to join the Marine Reserves in his early 20's.
Additional PSA's will be released throughout the summer to continue the positive messaging of water safety through the value of swimming. As part of the series, several foreign language segments were produced including a Spanish version for distribution on the Spanish airwaves.
https://youtu.be/xz4ZArXEhzg
A long-time community partner with the Float Like A Duck initiative, Children's Hospital of Nevada at UMC worked closely with the production team to produce the Spanish PSA. In this version, Evelia Olivero, Community Relations Coordinator at UMC introduces the PSA, and is accompanied by Captain Sergio Reynoso, with the North Las Vegas Fire Department and Francesca Schutte, Swim Coach and Lifeguard at the SkyView YMCA with their personal message.
Vassallo and Duckie encourage swimming across the globe and want to hear other's stories on how swimming has played a part in their life. The duo invite friends and fans on social media to share their positive personal message in photos or video on Facebook @FloatLikeADuck and Twitter @Duckieparagon with the hashtags #learningtoswimledmeto #swimmingledmeto #floatlikeaduck #poolsafety and #watersafety .
The award-winning, family-friendly Float Like A Duck™ is a volunteer based public service initiative presented by Vassallo and Paragon Pools of Las Vegas, NV. The 14th annual event is free and open to the public. Beyond the event, Vassallo and Duckie make appearances at events, hospitals and schools.
The 2017 Aqua Ambassadors are:
Anna Yatsko, Professional Mermaid, Ovia Aquatic Productions
Captain Cedric Williams, PIO, North Las Vegas Fire Department
Captain Sara Harper, PAO Thunderbird #12, US Air Force
Captain Sergio Reynoso, Fireman, North Las Vegas Fire Department
Casey Smith, Broadcast Journalist, Nevada Broadcasters Assn. Hall of Fame Inductee
Charles Fleisher, MD, Robotic Surgeon
Elise Sofia and Addison, Swimming Buddies
Erin Wise, Supervisor of Dolphin Care, The Mirage Dolphin Habitat
Evelia Olivero, Community Relations Coordinator, Children's Hospital of Nevada at UMC
Francesca Schutte, Swim Coach & Lifeguard, SkyView YMCA
Jake Lewis, Pool Manager, Centennial Hills YMCA
Kaylee & Megan, Competitive Swimmers, BCH Heatwave Swim Team
LCDR. David "Fish" Vail, (USN, Ret.), US Navy Fighter Pilot
Ludivine Perrin-Stsepaniuk, Coach, SN Desert Mermaids Synchronized Swimming Team
Maci & Nathan, Water Polo Players, Team Vegas Henderson Water Polo
Mark St. John, Coach, Team Vegas Henderson Water Polo
Michael McFate, Fireman, Las Vegas Fire and Rescue and his son Cash
Sandy Nitta, 1964 USA Olympic Swimmer, Team Vegas Henderson Water Polo – Director
Sergeant Brian Kobrys, Las Vegas Metropolitan Police Department
Sophia Grasso, Swim Coach, Henderson Multigenerational Pool
Southern Nevada Desert Mermaids Synchronized Competitive Swimming Team
Southern Nevada Desert Mermaids Synchronized Recreational Swimming Team
Team Vegas Henderson Water Polo
Timothy Tanksley, Lifeguard, Henderson Multigenerational Pool
Tomek Pleskaczyński, Underwater Photographer, Artsy Memories
Toshi Yoshida, Biologist, Lake Mead National Recreation Area - Dive Team
The following organizations and households aided in production and location shoots.
Centennial Hills YMCA
City of Henderson
City of Las Vegas
City of Las Vegas Film Office
Clark County
Clark County Film Office
Desert Breeze Aquatic Center
Henderson Multigenerational Pool
Henderson Parks and Recreation
Lake Mead National Recreation Area
Las Vegas Fire and Rescue
Las Vegas Metropolitan Police Dept.
MGM Resorts International
National Park Service
Nellis Air Force Base – Thunderbirds
Nevada Film Office
North Las Vegas Fire Department
Pavilion Center Pool
SkyView YMCA
The Abercrombie Family
The DellaIacono Family
The Mirage Dolphin Habitat
University Medical Center of Southern Nevada
For more information about Float Like a Duck go to
http://www.paragonpoolslv.com/float-like-a-duck
Follow Duckie at FB: @floatlikeaduck T: @duckieparagon