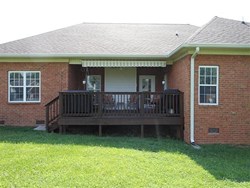 The HeadHouse Properties company has built its investment portfolio in 2013 with an average of 10 properties monthly and is now providing its housing solutions to men and women seeking easier ways to obtain a home
Murfreesboro, Tennessee (PRWEB) September 24, 2013
A standard real estate purchase requires a person to come up with cash funds or financing to complete a property sale. One company in Tennessee is now offering alternative housing solutions to the public. The HeadHouse properties company is now providing lease purchase homes in Murfreesboro, TN. The Real Estate News Wire company has published this news report online at http://realestatenewswire.com/homes-sale-murfreesboro-tn.
The alternative housing solutions that do exist in some U.S. cities are partly created by investment companies. A person who cannot provide a cash purchase price to buy a home often seeks different funding solutions.
The leasing programs that are currently offered provide a way for a buyer to save up the money required to purchase a home over the course of two to five years.
"The HeadHouse Properties company has built its investment portfolio in 2013 with an average of 10 properties monthly and is now providing its housing solutions to men and women seeking easier ways to obtain a home," said a source for the RealEstateNewsWire.com company.
The Headhouse Properties company has redesigned its property resource center at http://www.mywifehomes.com to include all of its current properties in the state of Tennessee. Multiple cities are now part of the housing solutions that are offered to the public. The new online resource provides consumers with simple ways to view property pricing and photos of each home for sale.
"Lease to buy and rent to own agreements that are now offered by the HeadHouse Properties company can be found on the company website to help with streamlining the application process for consumers," the source confirmed.
The marketing strategies that are used by some investment companies includes video marketing in the U.S. A YouTube channel has recently launched at https://www.youtube.com/watch?v=6Nk0DAUxsgk to provide extended ways that consumers can review the properties that are now marketed in Murfreesboro and surrounding cities.
The Real Estate News Wire company is expanding its reviews of investment companies in the United States through the 2014 year in effort to introduce more buyers of homes to the secondary solutions that some extraordinary companies are currently providing in the housing industry.
About HeadHouse Properties
The HeadHouse Properties company purchases homes in the state of Tennessee and provides housing solutions to men and women seeking occupancy. The homes that are marketed inside the current portfolio can be purchased using a number of company created services. The HeadHouse Properties company currently offers rental and lease to buy agreements for each property apart from an outright sale.
About RealEstateNewsWire.com
The RealEstateNewsWire.com company publishes information online for consumers concerning housing companies in North America. This company offers information for owners of properties, renters and investors in the real estate industry. The syndication of company published content is helping to reach more homeowners daily online.