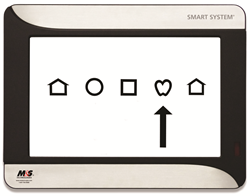 Niles, IL (PRWEB) July 16, 2014
M&S Technologies, the first name in computerized vision testing systems, is proud to continue to be the exclusive distributor of LEA Symbols and Numbers in a digital format.
The LEA test was developed in 1976 by Finnish pediatric ophthalmologist Lea Hyvärinen, MD, PhD. It is designed specifically for children who do not know how to read the letters of the alphabet.
The symbols (apple, pentagon, square, and circle) can be named and easily identified as every day, concrete objects. This allows for vision impairments to be diagnosed in children at much younger ages than standard optotypes allow. This is especially important for young children who possess other physical disabilities or mental disabilities and are entitled to receive early special education benefits.
The LEA symbols tests are the only tests that have been calibrated against the standardized Landolt C vision test symbol. The Landolt C is an optotype that is used throughout most of the world as the standardized symbol for measuring visual acuity.
M&S Technologies worked closely with Dr. Hyvärinen to develop a digital version that upheld the precision and accuracy of the optotype when viewed at testing distances. The LEA Symbols and Number are available for acuity testing on all the Smart System models and are also used in the ColorCheck protocol at both distance and near.
"The LEA tests are an integral part of visual acuity testing, especially for children. They are backed by extensive research and it's very important to us that tests on the Smart System be accurate and science-based." Joe Marino, President & CEO, M&S Technologies, Inc.
About M&S Technologies:
Founded in 1990, M&S Technologies is a software company specializing in visual testing systems and dedicated to developing the very best products for eye-care professionals, optometry schools and universities, and products used in clinical trials. To date, over 23,000 systems are in use across 39 countries with a growing network that includes 25 distributors and several strategic industry alliances. Superior service, industry-leading technology and products that define the cutting edge have been the hallmarks of M&S for over 20 years.
For more information, please contact:
Carolyn Crabb
Marketing Coordinator
M&S Technologies, Inc.
847-763-0500
ccrabb(at)mstech-eyes(dot)com