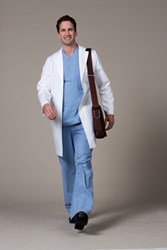 San Clemente, CA (PRWEB) July 26, 2013
Medelita® partnered with BOCONI in April to offer its physician colleagues a short list of premium leather bags on its online store, and the products have been well-received.
Originally, the company decided to offer the bags online as a way for its existing customers to complete the professional look found in their Medelita brand lab coats and scrubs. As the interest in these new leather bags has risen, the company is beginning to attract new customers that have not previously known about Medelita-brand products by way of organic web searches for physician bags.
Thanks to this new exposure, more physicians and clinicians than ever are finding that medelita.com is their ideal place for their entire set of medical uniform and work attire needs. CEO and company founder Lara Francisco, PA-C is herself a licensed physician assistant and is proud of this accomplishment, "What makes Medelita so unique is that it is the only brand that caters toward a growing demand for more professional attire in a system that often suffers from budget constraints or simply poor taste. Medelita scrubs are an upgrade away from 'cutesy' or unisex scrubs just as much as BOCONI bags are an upgrade to school back packs."
Lara's ideal bag brand was something her customers could find walking into stores they frequently visit, like Nordstrom, where she discovered BOCONI. The quality of the full-grain Italian leather, sturdy hardware, and sharp attention to detail was a perfect match for the Medelita brand, and BOCONI bags and cases have been available at medelita.com ever since. Now as the holidays are a few months away, the company is getting prepared for a surge in orders as these leather bags make ideal gifts for doctors.
The complete new line of BOCONI leather bags sold by Medelita can be found at http://www.medelita.com/leather-physician-bags.html. Please contact contact.us(at)medelita(dot)com for more information.
About Medelita
Medelita is redefining the way healthcare professionals present themselves at work. Combining innovative, certified, performance fabric technology with sophisticated designs and hand-tailored workmanship, Medelita offers the most refined, comfortable and functional gender specific lab coats and physician scrubs available. Exquisite detailing and traditional sizing ensure flattering shaping, an unsurpassed professional appearance and a vastly improved fit. Quality is so exceptional, the company provides a One Year Guarantee – which is unmatched by any other medical apparel manufacturer in the industry. For more information, visit the Medelita website at http://www.medelita.com or call 877.987.7979.