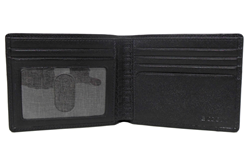 to create handmade bags and accessories that you would not just use, but would love to carry.
Los Angeles, CA (PRWEB) April 29, 2014
Fast-growing business case and luggage e-store GotBriefcases.com is now showcasing the stylish BOCONI leather wallets (bifold and trifold), as well as the brand's credit card cases and business card cases.
BOCONI, a relative newcomer to the market, is already gaining a fine reputation. Established in 2010 by husband and wife team, Bobby and Connie Williams (the company name comes from BO+CONI), the brand offers drop-dead gorgeous leathers, cool vintage hardware, and fun, fresh linings. BOCONI pays incredible attention to detail providing handcrafted, stylish products with non-stop functionality.
Says Bobby Williams, "We began with a simple idea and dream…to create handmade bags and accessories that you would not just use, but would love to carry. Both of us draw-off of our passion from our years of experience in clothing, bags, and accessories. Throw-in our deep love of music and sports living here in Nashville…our label reflects hip yet traditional, stylish yet functional, durable yet good-looking, luxury yet tangible style."
A particular hit on GotBriefcases.com is BOCONI's Grant Collection…handsome, feather-light, gently milled nappa calfskin small leather goods. And, in particular, the Boconi Grant RFID Leather Billfold Wallet. RFID (Radio Frequency Identification) can be detected through clothing and even leather, but these products have a thin alloy matrix blocker between the leather and lining to stop electronic pickpocketing of your valuable digital private information.
It's not only functional, but also has been acclaimed as "the new style player in men's wallets!" The 4.5" x 3.625" x .5" wallet features two full divided currency pockets; five interior credit card pockets; two stash pockets; outside receipt pocket (great for a traveler's hotel key card); European rounded edges (corners will not "dog-ear"); BOCONI's sleek coated "mad men" gray flannel lining; BOCONI's sleek coated "mad men" gray flannel thumb-slide ID window; and BOCONI's signature "plaid about you" stamped spine.
GotBriefCases.com founder and CEO, Vahran Tovmasyan, said, "I'm delighted to be able to promote the BOCONI line of products. Bobby and Connie have created the most stylish, thought-out bags you'll ever carry: whether it's a weekend to the beach or mountains, a business deal to New York or London, a road-warrior trip across country or just your daily commute."
Tovmaysan launched Los Angeles-based GotBriefCases.com from scratch in 2009 at a time when he had no prior experience in ecommerce and didn't even speak English. A friend gave him the idea and helped create the website. Tovmaysan rolled up his sleeves, learned English and began contacting manufacturers.
Today the online retailer carries more than 50 brands and over 5,000 products in a multitude of different colors. Brands include household names such as Samsonite, Hartmann Luggage, Zero Halliburton's business collections, TravelPro Luggage, Kenneth Cole bags and Jack Georges.
GotBriefCases.com appeals to a wide audience including professionals such as attorneys, CPAs, businessmen and women, and teachers, as well as travelers and students.
What differentiates Got Briefcases from other luggage websites?
Tovmasyan said, "Our goal is to provide the best customer service and the best shipping time. It's all about quality. We are the top-rated seller on eBay with almost 2,300 positive reviews and 98 percent positive feedback on Amazon. We are happy to now provide the same high level of service to my gotbriefcases.com customers. And at extremely affordable prices."
To find out more about the BOCONI line of bifold and trifold leather wallets, credit card cases and business card cases as well as Got BriefCases' wide array of products including leather briefcases, laptop cases, computer bags, and backpacks, visit their website at http://www.gotbriefcases.com/.