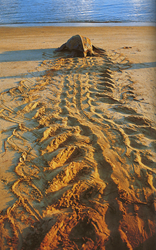 Watching these giants nesting is truly one of the most awe-inspiring experiences of my life. --A recent tour participant
Miami, FL (PRWEB) January 31, 2015
Trinidad's beaches are home to some of the largest Leatherback Turtle nesting sites in the world. Each year, nearly 15,000 turtles find their way to Trinidad's shores.
Travelers will immerse themselves in the life cycle of these massive creatures at Matura Beach and in the tiny seaside village of Grand Riviere. Turtles begin emerging from the sea following sunset and spend around an hour digging nests and laying eggs. Travelers come face to face with these massive creatures with expert guides from local conservation non-profits that help patrol the beaches.
"Watching these turtles is truly a once in a lifetime experience. These are some of the oldest animals on Earth and their population is rapidly declining. This is an important opportunity to not only witness the nesting process, but also gain a better understanding of how we can help protect this species," says Naturalist Journeys CEO Peg Abbott.
Tours are based at Trinidad's world-renowned Asa Wright Nature Centre. Past travelers have treasured the Centre for its unmatched views of colorful birds of Trinidad's Northern Range forest. Many past participants report seeing 30 or more bird species before breakfast on their first morning.
Travelers will also relish amazing tropical birding at sites across Trinidad. At Caroni Marsh, hundreds of Scarlet Ibis return to their roosts each evening. On Blanchisseuse Road, incredible views give way to colorful species. The geography of this twin-island nation encourages a unique combination of Caribbean and South American birds.
Grand Riviere, Trinidad holds one of the densest nesting Leatherback Turtle concentrations known. Those who include Grande Riviere in their itineraries will also have the chance to see the endemic Trinidad Piping Guan, one of the rarest and most critically endangered species on the planet. Experts believe there are fewer than 500 remaining in the world.
Caligo Ventures' turtle tours extend their long commitment to ecotourism. Local non-profits, such as Nature Seekers and the Grande Riviere Environmental Awareness Trust, rely on donations from travelers to help protect the Leatherback Turtles and protect critical nesting grounds.
Caligo Ventures' Trinidad Birding and Nature tours begin and end at Port of Spain airport, Trinidad, and are limited to 14 participants. For more information see http://caligo.com/trinidad-tobago-tour-dates-and-prices/.
About Naturalist Journeys
Naturalist Journeys is a nature-travel company based in Portal, Arizona. They strive to support eco-tourism throughout the U.S. and beyond, through small-group guided journeys, often in co-operation with local non-profit groups and communities.