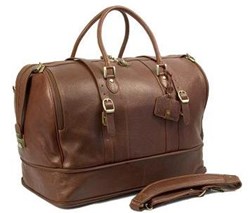 I purchased a briefcase for my significant other for a birthday gift. We live in different cities, so I unfortunately haven't seen it in person yet. However, he LOVES it and was completely blown away by the craftsmanship of the item, as well as the room
Murphy, TX (PRWEB) September 13, 2013
The LeatherGiftItems.com on-line store, is offering selected pieces from its Dr. Koffer premium line of leather bags, at the lowest prices yet, up to 27% off MSRP. They can be found at luxury leather bags on sale.
One of the most popular duffel bags on-line is the Blake Travel Bag. It is a large duffel, but fits carry on regulations. The bag has an expandable bottom, for added storage, brass hardware, handles, as well as an all leather strap. Of this same high quality there are briefcases and men's shoulder bags for travel.
The Dr. Koffer Italian leather bags are made in 3 types of Italian leather, Black Karelia deer, cowhide, and buffalo. To peruse the entire Dr. Koffer line, do so, in order to realize the great savings available in this select grouping of bags featured. The line also features wallets and messenger bags attractive to both men and women buyers.
The internet site also features many other lines of leather goods from premium lines such as Dr. Koffer, Jack Georges, Korchmar, Le Donne Leather, Scully Leather, Tony Perotti. For the busy traveler, who may be a bit hard on their luggage, try out the McKlein leather bags on sale, even their regular prices are very reasonable.
Peruse the LeatherGiftItems.com facebook site, to learn more about the company, in addition to their About Us page. The company operates from 9:00 a.m. to 5:00 p.m. Central Time, Monday through Friday, with limited staff on weekends (however all orders from weekends are processed Monday morning). You can reach the company at 877-494-2548.
Take advantage of the site's regular discounts, example, no shipping costs when order is greater than $100, gift certificates, company provided return label, and excellent customer service representatives ready to help you find that perfect leather bag or gift.