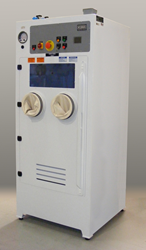 Flametec Cleanroom PVC-C provides many advantages in harsh chemical environments-- Dwight Leatherwood, President and owner, Leatherwood Plastics
Lewisville, TX (PRWEB) September 18, 2014
Leatherwood Plastics has selected Vycom's Flametec Cleanroom PVC-C, a FM-4910 listed material, to stay competitive in the semiconductor, clean room and medical lab industries. These high-performance materials ultimately impact product quality and productivity, according to Dwight Leatherwood, the company's President and owner.
Established in 1980 in Lewisville, TX, Leatherwood Plastics has held strong as many fabricators have left the business. Much of Leatherwood's equipment building relies on Flametec Cleanroom PVC-C, a fire-retardant, chemical and moisture-resistant material that is used to the build large wet benches, lab cabinetry, plating tanks and exhaust systems. In silicon wafer processing, the entire chemical wet process can be very punishing to the equipment and its internal components. With FM-4910 compliance, which means the material has passed the Factory Mutual test for fire propagation and smoke density, there is reduced chance of contamination from smoke particulates and toxicity which can damage wafers and threaten worker safety.
"Flametec Cleanroom PVC-C provides many advantages in this harsh, chemical environment," said Leatherwood. "An inherently clean material, PVC-C is resistant to bacteria, reducing the possibility of contamination as well as offering very low-maintenance and ease of cleaning."
Flametec also contributes to strong welds which are done by hand, a process in which heat is applied to the rod and parent material which quickly heats and seals as you weld. "Because Flametec Cleanroom PVC-C meets fire-safe compliance standards, is workable, relatively easy to fabricate, and stands up to punishing environments, we are able to create an end product designed to keep the semiconductor process moving without leaks or hang ups," said Leatherwood.
He added that speed, cleanliness and quality are essential to wafer processing and efficient lab and medical testing operations. By relying on the latest high tech materials, high levels of training and the best routing equipment, Leatherwood plans to stay strong and keep his cleanroom equipment at the top of the industry. To learn more about Leatherwood Plastics, visit http://www.leatherwood.com. For more information on Flametec, visit http://www.vycomplastics.com.
About Leatherwood Plastics
Leatherwood Plastics based in Lewisville, TX, was formed in 1980 by Dwight Leatherwood, to serve high technology industries by manufacturing and installing superior wet processing equipment. State of the art computer-controlled fabrication equipment and highly skilled craftsmen contribute to the ultimate quality and reliability of the product.
About Vycom
Vycom, a division of CPG International, is dedicated to maintaining an environment where quality meets performance. Vycom offers the largest range of products, capabilities and inventory for all your Olefin and PVC needs. For more information, visit http://www.vycomplastics.com.