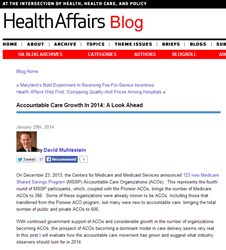 Physician groups continue as the predominant ACO sponsor type although others are becoming increasing involved.
Salt Lake City, Utah (PRWEB) January 30, 2014
Building upon Leavitt Partners continuing work around the accountable care landscape, director of research David Muhlestein examines how the movement has grown and points to what industry observers should watch for in 2014. In a Health Affairs Blog entitled "Accountable Care Growth in 2014: A Look Ahead," Muhlestein notes that there are now 606 ACOs in all 50 states covering an estimated 18.2 million lives under commercial and public contracts.
The piece takes a look at what factors might affect the growth rate of the ACO movement in 2014, including the forthcoming release of first year results for the early Medicare Shared Savings Plan ACOs, the impact of political changes on both a federal and state level and the importance of consumer preference affecting ACO growth. "Accountable care represents a paradigm shift in how health care is delivered," says Andrew Croshaw, managing director and partner at Leavitt Partners. "The early successes or failures of ACOs will directly impact how and where future ACO growth will occur."
This forward-looking analysis of the ACO landscape highlights several significant aspects:

Physician groups continue as the predominant ACO sponsor type although others are becoming increasing involved.
Early results will play a significant role in helping non-ACO providers that are closely watching the movement for both positive results and a model to follow.
Federal legislation related to a permanent fix of the Medicare SGR and state-level Medicaid programs could have serve as a catalyst in the proliferation of ACO-like programs.
If you're interested in viewing the full post, please visit Health Affairs or read other related articles at the Leavitt Partners Center for Accountable Care Intelligence.
About Leavitt Partners
Leavitt Partners is a health care intelligence business. The firm delivers collaborative, high-value intelligence that helps clients transition to new models of care. Through its member-based collaboration called Health Intelligence Partners™ and direct services to clients, the consulting firm provides the best available window to the future of American health care. For more information visit LeavittPartners.com or call (801) 538-5082.