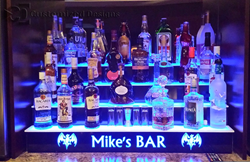 Its all about the experience. Our goal is to create every entertainment area – whether it's in a home or in one of the largest companies in the world – as an experience the visitor isn't soon to forget.
Denver, CO (PRWEB) April 09, 2014
Customized Designs is celebrating 10 years online by releasing a new, more intuitive, user-friendly web presence, allowing users to explore the site and be inspired by the many possibilities, all from the comfort of their homes or offices.
"With our product, inspiration comes from seeing," stated Brian Turnipseed, founder and president of Customized Designs. "Our new online gallery and idea center features over 500 images to inspire people in what they can do with light."
Customized Designs creates unique and specialized LED lighted products for both home and commercial use. All products are built to order and can be customized to fully fit the functionality and location of the finished design space.
"Our products are on display in some of the most common household named companies in the world," stated Turnipseed. "Companies like Discovery Channel, Disney, Chili's, Hooters, Marriott Hotels & Resorts, and MGM Grand Las Vegas all have our lighted products on display. But just as much as we value our big named clients, we value our small clients equally."
LED Lighting is incorporated into a variety of things:

Liquor displays, both for home bars and commercial locations
Portable bars
Floating shelves
Modular furniture
Tables
Displays
By working through the website and image gallery, its easy to piece together desires for either home or commercial entertainment areas. Once an idea is in place, the new site has the ability to set up a secure account to begin the ordering and customization process. Each step is designed to provide the easiest tools necessary to create a dynamic look not experienced in normal settings.
"Its all about the experience. Our goal is to create every entertainment area – whether it's in a home or in one of the largest companies in the world – as an experience the visitor isn't soon to forget."
For more information on Customized Designs, and to view the new online gallery and idea center containing liquor displays, bar design ideas, and more, visit http://customizeddesigns.com
###