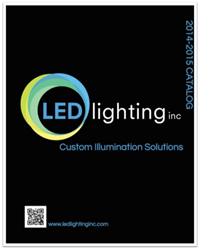 "We are excited to offer custom binning for our customers to keep our promise of consistency."- William (Bill) Hood, CEO
Chicago, IL (PRWEB) September 04, 2014
LED Lighting Inc. (http://www.ledlightinginc.com) – a primary resource for custom commercial and residential LED lighting solutions—has released the latest edition of its 2014-2015 digital catalog.
LED Lighting Inc.'s new 2014-2015 catalog focuses on new products and technologies, featuring over 2,000 new and existing items. The 100-page catalog defines product specifications, certifications, ordering information and illustrates application photographs.
New products introduced include: TSHL600CCT, featuring an adjustable CCT (color temperature) from 3000K-7000K, operated by a CCT-TOUCH or CCT-TOUCHDIM controller. LED Lighting Inc. is also offering TSHL2835-150, a standard luminosity tape light and TSHL2835-300, a high luminosity tape light.
In addition to the standard line of CRI (Color Rendering Index) ≥80 tape light, LED Lighting Inc. now offers an ultra premium line of tape light with a CRI ≥90. All double-sided 3M backing has been upgraded to 3M VHB 4991 (automotive grade) on all tape products. LED Lighting Inc. can customize tape light specific to customer applications, as well as provide custom binning.
William (Bill) Hood, CEO of LED Lighting Inc., said, "We are excited to offer custom binning for our customers to keep our promise of consistency. As a special order, we can customize our tape light to designer's and architect's specifications, we offer eight different kelvin temperatures in 80 and 90 CRI."
The catalog is constructed to focus on product specifications while incorporating technical literature and graphics. It is designed to help LED Lighting Inc.'s customers easily navigate through LED products for guidance with current projects or, for application inspiration. It is segmented into product groups including: tape light, connectors, power supplies, channels, versa bars, puck lights, tube lights and OEM products.
Distribution of the print catalog is scheduled for late 2014.
About LED Lighting Inc.
LED Lighting Inc. continues to relentlessly expand and position itself as one of the only Custom Illumination Solution specialists in the marketplace. As an innovator of LED lighting and technology, LED Lighting Inc. recognizes its uniqueness with providing custom applications and meeting detailed specifications. LED Lighting Inc. products are thoroughly tested and backed with strong warranties.