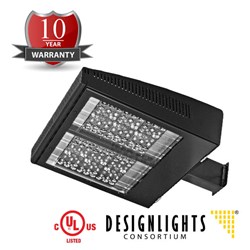 We are thrilled to work with LED Corporations to ensure this vibrant 24/7 neighborhood will be seen in the best and greenest light possible, with energy efficient fixtures made in the United States. - Barbara Blair Randall
Palm Beach Gardens, Florida (PRWEB) October 03, 2013
LED Corporations, Inc. is pleased to announce that over 370 of the company's high efficiency, Phillips Luxeon® LED-based street lighting is being installed in the Garment District, Manhattan borough of New York City, also known as the Fashion District for fashion manufacturing in the United States, and even the world. The whole Garment Center that lies between Fifth Avenue and Ninth Avenue, from 34th to 42nd Street will soon take advantage of the heighten brightness emitted by 300 watts of Phillips Luxeon® LED-based street lights which are "Made in USA" and distributed by LED Corporations, Inc.
Barbara Blair Randall, president of the Fashion Center Business Improvement District said, "The Garment District is not only filled with fabulous hotels, trendy dining and nightlife spots, and creative tenants – it is also one of the most environmentally sustainable neighborhoods in New York City. We initiated the project with our electrical contractor and LED Corporations to replace the existing energy-wasting, antiquated street lighting with a more reliable intelligent roadway luminaire system." Phillips Luxeon® LED-based street lighting will improve light efficacy, brightness, luminance, heat dissipation on pedestrian traffic flow while reducing operating expense and service lifespan. Anthony Florence, President of LED Corporations added, "LED Corporations adopts Philips Luxeon® proprietary patented wafer bonding process that significantly increases the surface area of connection to the anode and cathode; the result is a more reliable luminaire designed to last more than 100,000 hours, environmentally green and carries a 10 year warranty." Phillips Luxeon® LED-based street lights replace the traditional HIDs, eliminating the routine expense of the bucket truck will put savings straight to the bottom line.
Whether it's LED street lighting, LED roadway lighting, LED parking garage lighting, LED parking lot lighting, commercial LED lighting, LED flood lighting or LED panel lighting needs, LED Corporations proprietary solid state lighting products provide the longest life. Multitude of pole and wall mounting options, various wattage and color temperatures are available to suit any aesthetic tastes on virtually all outdoor and indoor lighting needs.
For more information about Phillips Luxeon® LED and residential or commercial LED lighting products, please download the brochure: LEDcorporations.com/Phillips-Luxeon-LED.pdf
Inquires regarding sales, marketing, advertising, press releases or other news please contact Leista Burnett - Marketing Director.
LED Corporations, Inc.
3300 PGA Blvd.,Suite 620
Palm Beach Gardens, Florida 33410
Toll-Free: (800) 560-7850
Phone: (954) 558-0141
Email: Sales(at)LEDcorporations(dot)com