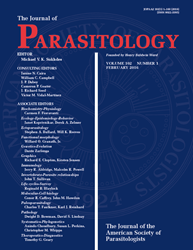 The key discovery was that the leeches had a single copy of an anticoagulant known as hirudin, indicating the leeches have a single ancestor.
Lawrence, Kansas (PRWEB) February 25, 2016
The Journal of Parasitology – Leeches are commonly called bloodsuckers because most do just that—feed exclusively on the blood of vertebrates. There are thousands of leech species with various methods of feeding. Thanks to a new technology known as transcriptomics, researchers have discovered that all leeches evolved from one bloodsucking ancestor.
The current issue of The Journal of Parasitology reports on the study that led to this discovery. The use of the new transcriptomics technology sets this research apart from previous studies, which had led researchers to suspect separate evolutionary paths for leeches.
This theory partially developed because not all leeches feed on blood in the same way. Some leeches have jaws, but others do not. Still, both types have saliva that prevents blood from clotting so that they can keep feeding. This anti-clotting ability is what made leeches a popular way to draw blood throughout the 19th century. Even today, certain leeches may be used to restore the flow of blood to veins damaged by grafting.
Researchers are still learning how leeches prevent blood from clotting, and new technologies such as transcriptomics are helping their studies. Transcriptomics is the study of the transcriptome—the complete set of messenger RNA molecules produced by an organism under certain circumstances or in a specific cell. By comparing transcriptomes, researchers can identify genes that are expressed in the same or in different ways in different populations of cells.
For this study, the authors looked at three species of the genus Placobdella, all of which suck blood using an extendable tubular organ. These leeches are found throughout North America and mainly feed on freshwater turtles. One major difference among them is number of salivary glands. The authors compared the results for the Placobdella genus with data for their South American counterparts.
The authors found that all three species had similar anti-clotting proteins in their saliva. This was surprising, because they expected the differences in number of salivary glands would affect the composition of the saliva they produced.
The key discovery was that the leeches had a single copy of an anticoagulant known as hirudin, indicating the leeches have a single ancestor. Researchers had long suspected that jawed and jawless leeches developed into bloodsuckers independently since they had such different ways of accessing blood, but the transcriptome data acquired in this study showed this was not the case. It allowed the researchers to conclude that leeches could be traced back to one ancestor.
Full text of the article "Comparative Transcriptomic Analyses of Three Species of Placobdella (Rhynchobdellida: Glossiphoniidae) Confirms a Single Origin of Blood Feeding in Leeches," The Journal of Parasitology, Vol. 102, No. 1, 2016, is now available at http://www.journalofparasitology.org/doi/full/10.1645/15-802.
###
About The Journal of Parasitology
The Journal of Parasitology is the official journal of the American Society of Parasitologists (ASP). The journal reports on all aspects of animal and human parasites, and is widely recognized for publishing content that has a long-term impact on the field of parasitology. The journal is intended for all with interests in basic or applied aspects of general, veterinary, and medical parasitology, and epidemiology. For more information, visit http://www.journalofparasitology.org.