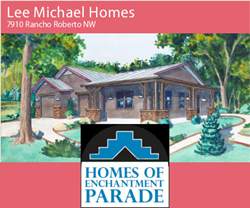 With finishing our Parade of Homes custom home entry this year, we realized that building a new website has many similarities to building a new home.
Albuquerque, NM (PRWEB) October 10, 2015
Hard work, great designers, smart and efficient practices are some of the similarities Lee Michael Homes says went into the newly designed website and their new custom designed model "casita" home in Albuquerque. While putting together the finishing touches on both, Alexa Knight of Lee Michael Homes, custom home builders in Albuquerque said that she noticed how many of the same elements were needed when building a well designed home as well as a more useful website.
This year, Lee Michael Homes wanted to respond to the growing and changing lifestyle needs of their homeowners by building this special mini-home, referred to as a "casita" in New Mexico. The model home was designed to showcase many lifestyle possibilities, constructed in a manner that could be used as an extension of a current home or as part of a full custom built design. Alexa stated that "so many individuals are using their homes not just as a home to sleep...they are using their homes for a work environment, extended family situations, or just a getaway man or woman cave."
In a live interview posted on Kasa TV 2's website, John Garcia, Executive Vice President of the Home Builders Association of Central New Mexico, describes the Lee Michael Homes casita as "a different type of product that's out on the market. We're seeing a lot of solar and energy efficiency coming into these new homes that are being built. A lot of nice design features, granite counter tops, to really nice upgrades in the bathrooms, landscaping. A little smaller footprint environmentally but also a lot more nice features for consumers."
The new website was also designed in response to the growing and changing needs of the online digital landscape. Its new design incorporates "responsive design" elements which allows for the website to be fully functional and look great on all devices from small mobile smart-phones to the largest of desktop computer screens. It was important to Lee Michael Homes to keep the site full of all the information, photographs, and a sampling of house floorplans that they have had for years on the previous website, and to take all of that and modernize it so as to meet the needs of their online visitors.
Lydia Fabry Mazorol, CEO of Search Visible, Inc., a digital marketing company, who helped with the design and development of the new website for Lee Michael Homes, said, "some of the biggest challenges we find in redesigns of websites for our clients, especially with many wanting to quickly apply the responsive-design benefits to their websites, is the retrofitting of the old into the new." Alexa will concur. Home remodeling, which is also a part of this custom builder's business, can have similar retrofitting issues.
With the 2015 Fall Parade of Homes starting this Friday, October 9, 2015, people in the Albuquerque area can visit this new design at: 7910 Rancho Roberto NW, Albuquerque, NM 87114 and can get further information, maps and more from a recent Lee Michael Homes blog post for their home entry.
With the new website now live, people anywhere, at any time with an Internet connection can visit its new design at: http://leemichaelhomes.com
About Lee Michael Homes:
Locally owned and family operated in Albuquerque since 2002, Mike and Alexa Knight offer one-stop custom home building solutions by helping clients find a lot, build on existing lots, and provide custom "Green" design services. Each home or remodel project is designed by Lee Michael Homes for energy efficiency, livability, and usefulness to multiple generations (from millennials to baby boomers) while integrating their clients' personal style.