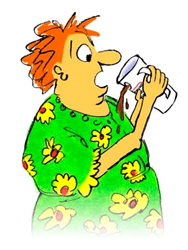 AAAAGGGHHH!
San Francisco, CA (PRWEB) March 28, 2017
For left-handers in search of April Fool's Day gags, Lefty's the Left Hand Store has just the thing! Lefties can get back at all those right-handers who have made fun of them all their lives. Lefty's has a line of left-handed Dribble Mugs which are so popular that they come in 6 different designs - for both kids and adults.
This is how it works.
Lefty: Here's my new mug that only works for left-handers. Would you like to try to use it?
Righty: Of course I can use it! Let me have something to drink.
The lefty fills it ,and when the right-hander drinks, the liquid in the mug comes out of a tiny hole and drips down their shirt!
Naturally it's best to serve something that's not too hot, and won't make too big of a mess. It absolutely fools them most of the time.
From now through April Fool's Day 2017, Lefty's is giving 20% off on all their dribble mugs with the coupon code leftyfoolsyou.
Lefty's has many funny products, including T shirts, signs, and notebooks with funny left-handed sayings. But the Dribble Mug is the best gag to pull on a right-hander, and is incredibly popular.
Visit Lefty's online at http://www.thelefthandstore.com, or in person at their stores in Pier 39, San Francisco, and Downtown Disney at Walt Disney World Resorts in Orlando.