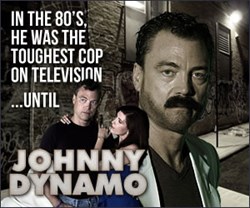 The debut audience was more than we ever expected.
Nashville, TN (PRWEB) September 04, 2013
Amazon, Netflix, Hulu, and Yahoo are all investing big dollars to produce original online content and the web series market that was once a playground for independent producers, is now being viewed as a new frontier for major internet companies and television networks. Nashville's Left Brain Digital was turned away by these same companies when it was seeking a finance partner for its Johnny Dynamo series, but the small production house found a way to get their project on the web.
Joe Thomas, series producer and CEO of Left Brain Digital said, "We pulled together every resource we could think of, grabbed a few rolls of nickels and went to work, this project was going to get off the ground."
Short on budget, but long on passion, the project is now flying high. The overwhelming response to Johnny Dynamo has surprised everyone, including its own production team. "We barely had enough capital to get the first 7 episodes shot, so there was virtually nothing left in the tank for marketing. What we're experiencing right now is just unreal," said Thomas. "I would have considered 50K viewers a success."
The series' success can be attributed to a well-crafted plot that has as many twists as it does turns. Johnny Dynamo centers around a former television action star who fell out of favor almost 25 years ago, when a failed publicity stunt ruined his credibility and his career. Today, he is long forgotten - until three upstart fans convinced him that they can reignite his career.
Created and written by Thomas and Dennis Mareno, Johnny Dynamo is a fast paced show that immediately draws the viewer in and doesn't let go. "It's important to keep the viewers engaged in the story," says Mareno, "We don't have big studio production and marketing dollars to work with, so it has to stay interesting and entertaining. The audience has to want to see what happens next."
Left Brain Digital has shot seven episodes so far and there are currently three episodes online at http://www.johnnydynamo.com. New episodes are released on alternating Thursdays. Production of the final 3 episodes of the first season are set to shoot at the end of September.
About Left Brain Digital
Left Brain Digital is an award winning, multimedia development, design and production firm located just outside Nashville, TN. Over the past 23 years, Left Brain Digital has worked with, and for some of the most recognizable brands in the world.