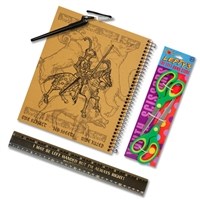 My son George is eight and is a lefty. He was absolutely ecstatic to get this kit. - Lefty's Customer Review
San Francisco, CA (PRWEB) December 18, 2013
Lefty's the Left Hand Store recommends Left-Handed Back To School Sets for Holiday Gifts. Kill two birds with one stone.
Lefties stock up on notebooks, portfolios, and other school supplies just before heading back in January. Yet most lefties don't even know that there are left-handed spiral notebooks, as well as left-handed pens, left-handed portfolios, left-handed rulers, and many other tools for lefty students.
Lefty's has the World's Biggest Selection of left-handed notebooks and school supplies, and one of the biggest selections of spiral notebooks of any type. Assembled into sets appropriate for different ages, they make very thoughtful and useful gifts.
For elementary and younger middle schoolers, the 4 Piece Left-handed Knight Notebook Set, and the 4 Piece Left-Handed Butterfly Notebook Set include a very fun wide-ruled notebooks, a left-handed pen, left-handed scissors, and a lefty ruler.
Older students particularly love the 6 Piece Left-handed 5 subject Notebook Set (with 5 notebooks and a pen), the funky new Left-handed Metallic Covered College-Ruled Notebooks, and the 4 piece Curly Q Left-handed Notebook Set. The Left-handed Executive Leather Padfolio Set, with its generously-sized yet sleek zippered portfolio, makes an elegant and extremely useful gift for anyone who's life is on the go.
For many students, especially left-handed students who know about left-handed notebooks, one of the best parts of going back to school is getting fresh notebooks, new pens, and other school supplies. To shop the world's best selection of left-handed products, go to thelefthandstore.com. Visit Lefty's retail stores on Pier 39, San Francisco, in Downtown Disney at Walt Disney World Resorts in Orlando, FL, or at Old Town Kissimmee, FL.