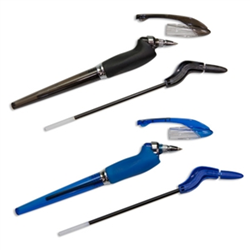 San Francisco, CA (PRWEB) October 17, 2016
Lefty's the Left Hand Store announces their new left-handed specialty section with the world's largest selection of pens for lefties. All left-handers have trouble writing, and must cope with it for their entire lives.
Writing from left to right, for a left-hander, means that their hand follows the text. The left hand covers the text as it goes along so it's hard to see, and smears the text as it moves along. Left-handers must push rather than pull the pen, resulting in both hand strain after a short time writing and grungy hands. Lefties may compensate by hooking their hands from above what they're writing, which results in poor posture and repetitive stress injuries. Or they may have learned a technique to position the paper in an extremely rotated position which allows them to write without smearing.
For those lefties who hook, a revolutionary pen design with a hooked shaft allows them to actually see what they are writing! These lefties often find the ultra-ergonomic Yoropens, designed with both a grip that adjusts to be left-handed and the hooked shaft, to be life-changing. These pens are our top sellers in Lefty's stores, where lefties can try them out. A similar pen by Maped, the French school supply specialty company, is the other top seller. Both also have a fast drying ink, in case the hand has to go over the writing.
Lefties who write without hooking often prefer one of three pens with fast drying ink: the elegant metallic Kyocera pens with precision ceramic points, the chunky ergonomic Stabilo pens which target school aged lefties learning to write (but are beloved of many adults), and the Pentel gel pens which come in several colors and are great for drawing.
Left-handed pens are the best selling items in the store and on the web site. Visit Lefty's retail stores in Pier 39, San Francisco, Downtown Disney, Walt Disney World Resorts in Orlando, or Old Town Mall in Kissimmee, FL.