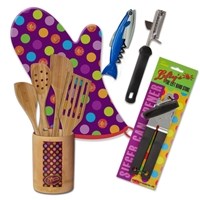 San Francisco, CA (PRWEB) November 18, 2013
Lefty's the Left Hand Store has created 4 new Left-Handed Kitchen Tool Gift Sets for left-handed cooks. Designed around Lefty's beautiful new Left-Handed Bamboo Cooking Tools, these sets come in a range of prices to suit every budget, from $30 to $150.
The Left-Handed Master Chef Kitchen Tool Gift Set, at $150, is perfect for the lefty who is a serious cook. This set includes many of Lefty's professional quality kitchen tools, such as the Lefty's Ergonomic Soft-Grip Bread Knife, the Monopol Safety Can Opener, Lefty's Left-handed Fish Corkscrew, and the Perfect Peeler with the ceramic blade, in addition to Lefty's very popular Bamboo Cooking Tools Set. The $30 set also includes a left-handed can opener and corkscrew, along with the Bamboo Tools, but the tools in this set are the simplest models.
Especially popular for the holidays is the Left-Handed Dad's BBQ Gift Set. Dad's are always a challenge to buy for, but this set is a natural. It includes a left-handed BBQ mitt, and a new left-handed wonder tool for BBQ-ing, the Sidewinder, in addition to the Bamboo Tools.
Most lefties have difficulty with certain key utensils in the kitchen. Can openers are the Number 1, as they are designed to go around the can lid clockwise, while the natural left-handed motion is counter-clockwise. Traditional can openers can be dangerous for lefties, especially young ones just learning how to operate them. Lefty's carries a selection of can openers which work well for left-handers, and has included one in each of the 3 main kitchen sets. Other handy left-handed kitchen tools include corkscrews, knives, peelers, kitchen shears, and cooking mitts.
Holiday cooking is great fun, and most people who like to cook look forward to it. When the kitchen gets crowded, or there's a big meal to prepare, left-handed utensils are especially useful.
Lefty's buyers have literally searched the world over for the best designed and most useful kitchen tools. Their products are tested by staff, friends, and focus groups. Many are custom designed, and these designs are constantly refined. As kitchen tools become increasingly ergonomic, left-handed cooks have become more interested in tools designed to make their work far more comfortable and efficient.
Visit Lefty's retail stores on Pier 39 in San Francisco, or in Florida at the Marketplace, Downtown Disney, in Walt Disney World, or at Old Town Kissimmee. Shop the website for the world's largest and best selection of products designed specifically for left-handers.