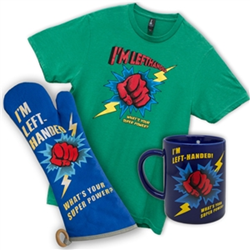 I'm Left-Handed. What's Your Super Power?
San Francisco, CA (PRWEB) June 08, 2017
Thelefthandstore.com has a great offer on the perfect Left-handed Father's Day present. Lefty's new Left-Handed Super Power Gift Set includes three of their most popular items with men, all printed with the lefty power slogan - "I'm left-handed. What's you Super Power?". All three are bright and bold, with a big red left fist punching out of the background.
Lefty's new BBQ Mitt is just what's needed for summer grilling. Extra-long to protect the left arm, it is backed with a heat resistant quilted fabric, towards the fire when worn on the left hand.
Lefty's left-handed dribble mug is designed to answer the age old question: "How can a mug be left-handed?". Firstly, the logo is visible to the drinker when held in the left hand. But in reality, the mug is designed to put arrogant right-handers in their places. When used in the right hand, a tiny hole in the mug drips liquid onto the user! The mug is the perfect gag for a lefty to pull on his right-handed friends!
Rounding out the set is the Super Power T Shirt, available is sizes from small to extra-large.
The three pieces together form the perfect Super Power outfit! From now until Father's Day, 2017, Lefty's is offering this great set for $10 off regular price! Visit Lefty's Facebook site for more information about taking advantage of this offer.
Visit Lefty's in person on Pier 39 in San Francisco or at Downtown Disney, Walt Disney World Resorts, Orlando.