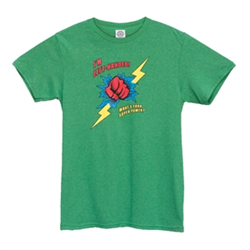 I'm Left-Handed. What's Your Super Power? - Lefty
San Francisco, CA (PRWEB) July 27, 2016
Lefty's The Left-Hand Store is giving away Lefty's Left-Handed Super Power T Shirts to celebrate International Left-Handers' Day on August 13! To receive one, all that's required is to post an illustrated story about being a left-hander on Lefty's Facebook site before midnight August 7!
"I'm Left-Handed. What's your Super Power?" proclaims Lefty's best-selling Super Power T shirt, surrounding a super-hero fist. These words are particularly appropriate for International Left-Handers' Day, when lefties all over the world have a day of lefty pride.
It's a day to recognize one of the world's largest minorities - a nearly silent one. One in ten people are left-handed, but right-handers have little or no understanding of what difficulties the right-handed world can cause them. Pens and pencils that smear, scissors that don't cut, and can openers that don't work are just the tip of the iceberg.
Lefty's has asked left-handers to share stories about their struggles on the Lefty's Facebook site. EVERYONE in the continental United States who posts an illustrated story, with a photo or video, will be sent a Super Power T Shirt that they can wear with pride on August 13!
Left-Handers' Day is a great opportunity for right-handers to let lefty friends and loved ones know they have a little sympathy. Some lefties convince their friends to try to BE left-handed for a day, or even a few hours. The results can be hilarious, and very revealing.
Visit Lefty's flagship retail store on Pier 39 in San Francisco on August 13 for fun and games to celebrate the Great Day! Or visit Lefty's stores in Walt Disney World and Old Town Mall in Orlando and Kissimmee FL.