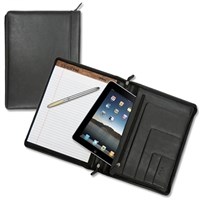 'WOW! Very impressive! The leather is very high quality and you can feel it by holding the portfolio. Got this for a class I'll be taking for an internship and I think it will workout nice.' - Review on Lefty's web site
San Francisco, CA (PRWEB) November 26, 2013
The Left Hand Store introduces Lefty's new line of left-handed leather padfolios, after two years in development. The owners wanted to create a group of useful, elegant and reasonably priced padfolios for left-handers. Lefty's staff and advisors studied and evaluated the possible features, and came up with 3 designs that would be extremely useful to all lefties, from students to executives.
The padfolios are designed with the writing pads on the left, where they are easy for left-handers to use. The larger padfolios have a variety of left-opening sleeves and pockets on the right side, and all have business card pockets opening from the top.
The most striking features of the larger padfolios are their soft pebbled leather and their zippers. Thanks to the zippers, these padfolios can go anywhere, and will keep important papers safe. They can be tossed in the back, dropped, or stashed almost anywhere.
The Executive Left-Handed Leather Padfolio works like a compact briefcase. With pockets in a variety of sizes, including a large internal sipped sleeve, this padfolio also contains a large pocket which will hold a digital tablet. It comes with a handsome silver ceramic-tipped Kyocera pen, which has a ceramic tip and quick drying ink that works well for lefties.
The simpler Zippered Leather Left-Handed Padfolio has 3 sizes of pockets plus the business card sleeve, and comes with our customers' favorite pen, the Yoropen, designed with a hooked neck and a left-handed grip. The smaller sized Left-Handed Leather iPad Padfolio includes a removable leather iPad case, pad of 5" x 7" paper, card pockets, and a Yoropen.
Lefty's design team interviewed a range of manufacturers to produce these padfolios, and visited the factory to meet owners and staff, and evaluate the production quality. Good working conditions were an important criterion in this selection.
Hot items for Holiday Gift giving are the Left-Handed Leather Padfolio Gift Sets. Each padfolio also comes in a set with a 2014 Left-Handed Day to Day Calendar, a pair of our premium quality soft-grip left-handed scissors, and a mouse pad printed with our favorite lefty slogan, "I May Be Left-Handed But I'm Always Right!".
Lefty's new padfolios are and padfolio sets are selling quickly at Lefty's retail stores on Pier 39 in San Francisco, in the Marketplace at Downtown Disney, Walt Disney World, FL, and at the Old Town Mall, Kissimmee, FL. They are also available on the web site at thelefthandstore.com.