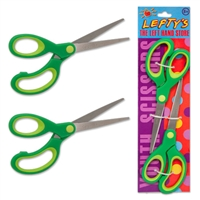 San Francisco, CA (PRWEB) January 31, 2017
Lefty's The Left Hand Store has just added a much requested wholesale program. Ever since the site first opened, Lefty's has fielded frequent requests to sell their products at wholesale. The store has now begun an experimental program to do just that. Available at wholesale prices are cases of Lefty's 4 types signature left-handed scissors - blunt scissors in two different colors, youth-sized pointed scissors, and adult scissors in packages with 2 different sizes. Lefty's left-handed can opener is also available by the case.
Lefty's has searched the world over for left-handed products, which are extremely hard to find, and often very expensive. Demand was so strong for certain products that Lefty's began to commission their own, maintaining control of design, cost and availability.
Vendors who want to carry these scissors, many of them in other countries, have sent many requests that Lefty's sell to them at wholesale, so the company has begun this process with two of their most popular and best-selling items - their left-handed scissors and their left-handed can opener.
Lefty's anticipates that schools and other institutions with large numbers of employees may also want to buy the scissors at wholesale. One in every 10 - 15 people in the world is estimated to be left-handed. In many cultures this percentage is rising as prejudice against left-handedness has become less widespread.
While most left-handers can learn to make right-handed scissors work, the movement is not natural, and they cannot see what they are cutting. This leads to less precision, as well as a high level of eye and hand fatigue. When lefty kids are given left-handed scissors, their transition from clumsiness to confidence can be striking.
The wholesale program is part of Lefty's public site, available to businesses and public alike. Products are available by the case. Lefty's products can be seen in person at their flagship store on Pier 39 in San Francisco in Downtown Disney in Orlando, and Old Town Mall in Kissimmee, FL.