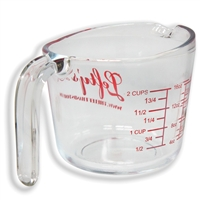 Iam VERY excited to finally find a good glass left handed measuring cup! I have searched high and low for a decent left handed measuring cup and never found one until just now. - Lefty's Customer Review
San Francisco, CA (PRWEB) December 04, 2014
Lefty's the Left Hand Store announces the Top 12 Left-handed Gifts for 2014 - Lefty's custom designs are the most popular and the best value. For 7 years, Lefty's has searched out the most useful products for left-handers, and studied them closely. Each year, Lefty's adds custom designed products that address classic left-handed issues in the most ergonomic and cost effective way.
IN 2014, Lefty's introduced their left-handed measuring cup, a product refined over years. Lefty's also designed a left-handed activity book for lefty kids, and created wonderful left-handed kids' art sets including it. Lefty's introduced fun new designs in their world-leading collection of left-handed notebooks. And Lefty's produced their ultra-popular left handed leather padfolios in a very affordable eco-leather, indistinguishable from animal leather.
Lefty's Top 12 includes all these, many combined into sets to make thoughtful and affordable gifts for left-handers of all ages and with every type of interest.
Visit Lefty's retail stores in Pier 39, San Francisco, at Downtown Disney, Walt Disney World Resorts in Orlando, Fl., and at Old Town Kissimmee, Fl., or online at thelefthandstore.com.