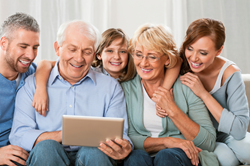 In a world divided, rallying around a common cause to pass down our wisdom to the next generation can bring us all together in a meaningful way.
Knoxville, TN (PRWEB) September 21, 2016
They first met in November 2006 after Cormier lost his best friend and business partner in a plane crash, and Stack lost his father shortly after his Mother succumbed to Alzheimer's disease.
The chance meeting was arranged by a mutual friend, an estate planner wanting help Stack promote his "Capturing Life Stories" program (used in 800+ hospices) by reaching a broader audience on Cormier's national talk show, Let's Talk America.
During a weekend brainstorming session, the two entrepreneurs were drawn to an urgent calling; to alert families about the risk and consequences of losing the irreplaceable wisdom of their elders, and provide them with free resources and technology to record and pass down legacy stories.
To fully commit to this challenge Dennis left a lucrative twenty year career as a wealth manager for UBS/PaineWebber, and Tom ended a fifteen year run on his successful talk show. The two then formed DenTom, llc. dba Legacy Stories.
"I realized I had been doing a good job helping my clients pass down their valuables but not doing anything to help them pass down their values," says Stack. "And having missed the opportunity to ask my own parents about their past, I wanted to make a difference, and this mission became my passion."
With the help and support of their talented advisory team, social investors and many others, they constructed the world's most comprehensive legacy-building platform.
"I was searching for a purposeful way to apply my marketing and business experience after the loss of my business partner," says Cormier. "This project has given me the opportunity to collaborate with top experts in multiple disciplines from around the world who all want to make a difference with us."
A FEW HIGHLIGHTS:

Founded the Living Legacy Project, formerly Project StoryKeeper (501c3), to provide free legacy education and resources to individuals and families from all faiths, cultures and ethnicities.
Founding partner of the Library of Congress' Veteran History Project
Developed the award-winning LegacyStories.org living history library, a free cloud-secured platform for members to build a digital legacy portfolio of written stories, curated photos, and oral histories.
First website to earn FamilySearch certification, which allows members to link their legacy stories, photos and recordings to 12 billion ancestor records in the official family tree of humankind.
Founded the International Association of StoryKeepers (I-ASK), a global network of certified legacy consultants.
Developed the free Legacy Stories Mobile App, which takes a picture of either the storyteller, a legacy photo, or an artifact, and records the teller's voice while "reminiscing with a purpose."
Developed the Legacy Stories Reminiscence Program, an award-winning community outreach platform that delivers a new legacy question by email every Sunday morning.
Developed Legacy Biz Solutions for senior care providers, estate planners and financial advisors.
Launched the Legacy Concierge Service, a directory of experts offering a full range of legacy services including memoir writing, media digitizing, video and audio histories, elder care services, estate planning, etc.
Published the Legacy Stories Handbook, a 32-page interactive guide that engages family members in the process of recording their elder's legacy stories.
"We knew it would take time and effort to build this platform but neither of us anticipated obstacles like the financial crisis and the rapid changes in technology," Cormier noted. "These challenges certainly tested our resolve but makes us even prouder of our accomplishments and more confident in what we can do for families going forward."
Stack sees a chance to heal at a time when it's needed most. "In a world divided, rallying around a common cause to pass down our wisdom to the next generation can bring us all together in a meaningful way," says Stack. "The Living Legacy Project is making a difference in the lives of families and in society as a whole, and we are thrilled to reveal our big plans to kick off the next decade."
The official Legacy Stories 10th Anniversary Surprise Unveiling is slated for November 1st, 2016.
For more information on how to get involved or for media interviews please contact:
DENNIS STACK: Dennis(at)legacystories(dot)org, 480-760-1924
TOM CORMIER: Tom(at)legacystories(dot)org, 423-295-5904