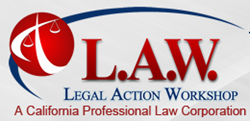 The Law Firm that Offers Low Flat Fees Since 1979
Glendale, Ca (PRWEB) July 10, 2014
Legal Action Workshop is proud to announce its 36th year in operation. Over the span of 36 years, Legal Action Workshop has been delivering divorce and family law services to Los Angeles County and throughout California. Attorney and owner Stephen Marc Drucker maintains his determination to provide low flat fees to those who wish to save money on their legal matters and who do not wish to pay the hourly/retainer fees that most family law attorneys charge.
Legal Action Workshop is the 'Law Firm that offers Low Flat Fees'. This is very unusual in the area of divorce and family law, as most lawyers charge hourly/retainer rates. According to Attorney Drucker, most people don't require the kind of representation that most lawyers offer. He offers a new and more standard method of helping these clients navigate the legal system and save money at the same time.
Attorney Drucker's method begins with a consultation so that each client gets legal advice and understands their legal options. He also conveys to them what is reasonable in their specific case. If the client decides to start the process and has more questions after the initial consultation, he/she can speak with the attorney again at no extra charge. L.A.W. prepares the legal paperwork and executes the process in the court. In this way, the client does not need to handle the legal process which is difficult and time-consuming.
Drucker's method is essentially an attorney-assisted method in which divorce and family law matters are addressed and most often completed using a Flat Fee model. The attorney does not 'fully represent' the client as this would necessitate an hourly/retainer fee.
If the family matter is uncontested (parties are in agreement) then the divorce or family matter can proceed by attorney preparation of a Marital Settlement Agreement or a Stipulation. Many cases are also completed by way of a Default which occurs when the respondent does not respond. In most instances, court appearances are not needed when the parties are in agreement or when there is a Default and there are no issues to address. However, in a default divorce with issues, the client can expect to go before the judge. In most cases, the judge will approve the reasonable requests of the petitioner.
In the event that the parties are not in agreement over issues and do not wish to cooperate, a trial will be necessary. Attorney Drucker will prepare the necessary documents such as requesting a trial date and preparing a trial brief. The client may wish to have temporary orders will awaiting the trial. In this case, the Attorney will prepare the Request for Order to address temporary orders for child custody, visitation and support, spousal support or other issues.
Legal Action Workshop can provide an attorney to fully-represent in court. This is also offered for a flat fee. In most instances, whether the legal matter is contested or uncontested, Legal Action Workshop can help the client and still use the flat fee method, ensuring that the clients save money with no financial surprises.
In conclusion, Legal Action Workshop's flat fee model is helping to make the law more affordable and more accessible. Their flat fee model seems to be a win-win situation. The Legal Action Workshop client has their legal needs met while saving a great deal of money. At the same time the L.A.W. Attorney-assisted method allows the firm to help thousands of people.
About Legal Action Workshop: Legal Action Workshop is a flat fee law firm based in Los Angeles County. In the area of divorce & family law, L.A.W. handles cases in LA County and throughout California.