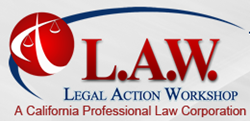 Glendale, CA (PRWEB) August 28, 2014
The law firm, Legal Action Workshop, has seen just about every kind of Divorce scenario over its 36 year life span—everything from contested Divorces to uncontested and everything in between! In the area of Divorce, experience seems to be the most important factor. With more than 12,000 Divorces completed, Attorney Stephen Marc Drucker, owner & Attorney is proud of his track record and is working with LAD Solutions to share this great achievement.
Legal Action Workshop is not your 'run of the mill' law firm. Right from its inception in 1978 the concept was to offer an affordable way to handle Divorce by offering low flat fees. Over the years, this 'flat fee' model has been perfected so that a high volume of Divorces can be completed while still offering outstanding service to clients.
The first step for a client is to request a consultation either over the phone or in their office located in Glendale California. Most clients opt for a phone consultation even if they reside in Los Angeles or close to the office. This seems to be truer now than 10 years ago due to advances in technology and the client's busy schedule. Once a consultation is completed, the necessary paperwork is emailed to the client and the Divorce process continues with filing, serving and completion. Most of the clients wish to agree on their issues (if they have any) and the Divorce is finalized without a court appearance. However, for those who have a contested Divorce, the flat fee process can still proceed in most instances.
The most important factor for a Legal Action Workshop Divorce is the fact that a Divorce can be finalized for a fraction of the cost of the hourly/retainer fees that most Attorneys charge! The cost savings are huge! Approximately 75% of their Divorces are uncontested and are completed with an agreement if there are issues, or completed by default (when the respondent does not respond) if there are no issues. The other 25% cannot agree on their issues and end up in court. Legal Action Workshop can still help these clients with the same flat fee model.
The law firm has recently added the ability to purchase services on their website—which is highly unusual for Lawyers. This is just another way that the law firm wishes to help the client by making it more convenient to get information, and their matter handled, quickly and easily. Their clients seem to be catching on as they are purchasing services on the site in growing numbers! Once purchased, a consultation is arranged and the same procedure ensues.
Legal Action Workshop not only handles Divorce, but also helps with all other Family Law matters such as Annulment, Legal Separation, Request for Orders etc. With 36 years' experience and their low flat fees, it seems like Legal Action Workshop is going to be around for many more years!
About Legal Action Workshop: Legal Action Workshop is a flat fee law firm based in Los Angeles County. In the area of divorce & family law, L.A.W. handles cases in LA County and throughout California.