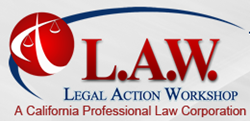 Glendale, CA (PRWEB) December 20, 2014
Legal Action Workshop is an Estate Planning and Probate Law Firm located in the quaint and picturesque town of Glendale, California in Los Angeles County. The firm has been practicing Estate Planning and Probate law for more than 36 years! Legal Action Workshop finds itself in the enviable position of handling more Probates than most other firms. In fact, the law firm closes about two Probates each month totaling about 700 cases to date!
Attorney Stephen Marc Drucker admits that his Probate practice keeps him very busy. He states, "I enjoy handling Probate cases. I am very familiar with the process as well as the courts and the judges. All in all, my knowledge of court procedure makes it easier to handle the cases and complete them in a timely manner."
In California, Probate is the process that may occur when a person passes away without a Trust. If the individual had real estate or personal assets that are valued at over $150,000 then a Probate would be needed in order to change ownership from the decedent to the heirs or beneficiaries. The person may or may not have had a Will. If the decedent had a Will then beneficiaries would be listed and an executor may have been named. If an executor was not named, or if the named person does not wish to perform the task or nominate another, then the court would appoint an administrator for the Probate. If there is no Will, then the heirs would be determined by intestate succession.
The speed with which Probates are finalized can vary from 8 months to many years. Most Probates that are not contested are finalized faster. A 'contested' Probate is one in which one or more heirs or beneficiaries are not in agreement or may think that wrong-doing has occurred. In a contested Probate matter, some of the heirs or beneficiaries may wish to hire an Attorney to represent their own interests. This usually results in a much longer timeframe for the completion of the Probate.
Legal Action Workshop handles predominantly uncontested Probates. In these cases, heirs or beneficiaries are usually in agreement so the Probates can be handled efficiently and in a shorter timeframe. Attorney Drucker states, "If the Probate includes real estate, then the heirs or beneficiaries decide whether to keep the property or sell. If there are personal assets these would be distributed once a number of steps are addressed such as inventory & appraisal, creditors, and debt. Since each Probate is different, the steps taken to the point of final distribution will also vary." Most importantly, when clients consult with Attorney Drucker, they are advised as to the Probate process in detail as well as the cost.
Clients can speak with Attorney Drucker by phone or in his office. He also uses Skype or other devices for face-to-face dialogue if desired. In essence, Attorney Drucker will advise the client and start the Probate based on the convenience of the client. In our busy world, it's nice to know that there is a 'client focused' Law Firm ready to help!