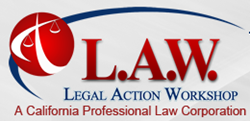 Glendale, California (PRWEB) February 27, 2015
Legal Action Workshop recently made an announcement about its selection as the 2014 Best Business of Glendale by The Glendale Best Businesses Program. This prestigious award comes as the result of the firm's efforts to provide legal services to Glendale area residents and its community involvement as a local business in the Glendale area.
Lead by Attorney Stephen Marc Drucker, Legal Action Workshop offers a variety of legal services including family law and divorce law. Since his admission to the bar in 1977, he has focused on providing lost cost flat fee services in order to make his services more affordable for clients on a limited budget. The goal is to help clients to resolve their legal issues quickly without getting burned by the high legal costs commonly associated with most lawyers. The firm also offers probate law and estate planning services to assist local families.
Legal Action Workshop as a result of its efforts caught the attention of the The Glenale Best Business Program as a thriving local business. The Glendale Best Business Program is a program that operates annually and is designed to honor local businesses in the Glendale, California area. This recognition is specifically given to local businesses to honor their achievements and accomplishments. In addition, the selection criteria is based on business that have utilized their resources to generate competitive advantages and grow their businesses even during periods of economic difficulty.
In order to receive a nomination from the Glendale Best Business Program, a company must demonstrate excellence in marketing their services to the community, community involvement, and innovative business practices in the marketplace. The awards are given out in several categories in order to reward local businesses from many different industries. The winners are determined by internal information gathering by the Best Businesses of Glendale Award Program, and only one winner is selected per category in each area. For 2014, Legal Action Workshop has won in the area of Divorce and Family Law.
Legal Action Workshop was selected as a winner from a large pool of local business owners, trade groups, professional associations and other business advertising and marketing groups. Winners are provided with an award plaque and official recognition by the program. In addition, the program seeks to help award winners gain more business and new employees by encouraging recipients to use the award as a promotional tool.
About Legal Action Workshop: Legal Action Workshop has served Los Angeles County and all areas of California for over 35 years. Specializing in divorce law, family law, personal injury, bankruptcy and estate planning, Attorney Stephen Marc Drucker helped to develop a concept to provide low cost legal services. For more information about Legal Action Workshop, visit http://www.legalactionworkshoplaw.com.