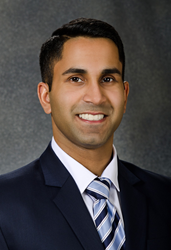 Attorney Kalpesh Mehta Joins Graves Thomas Injury Law Group
Vero Beach, Florida (PRWEB) August 15, 2016
Graves Thomas Injury Law Group today announced Kalpesh ("Kal") Mehta has joined the firm as an associate attorney in its Vero Beach, Florida office. He represents injury victims and their families in matters of personal injury, premises liability, products liability and other serious injury and illness accidents. Founding Attorney Joseph H. Graves commented, "Kal is an energetic attorney with a growing skill set. His insight into the litigation process from his work across the state of Florida is already benefiting our team and the clients we serve."
Prior to joining Graves Thomas Injury Law Group, Kal participated in a prestigious externship with a Federal judge in the U.S. Southern District of Florida and worked at a large law firm in Orlando, Florida. Kal earned his bachelor's degree from Florida Atlantic University. He earned his Juris Doctor from the University of Florida where he was a teaching assistant in two crucial law school courses, Legal Writing and Appellate Advocacy. While waiting for his bar results, Kal volunteered for six weeks as a teacher in a residential school in rural India. He is a member of the Florida Bar Association, Young Lawyers Division and American Bar Association.
About Graves Thomas Injury Law Group
Graves Thomas Injury Law Group is an injury law firm dedicated to representing individuals and family members impacted by a serious injury, illness or disability. For more information about Graves Thomas Injury Law Group, visit gravesthomas.com or call 772.569.8155.