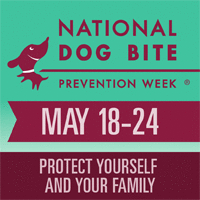 Every year a total of 4,500,000 people suffer from dog bites with over 800,000 of those bites in need of medical attention.
(PRWEB) May 18, 2014
There is a problem throughout the United States with dog bites. The goal of National Dog Bite Prevention Week is to education the public not only about the statistics of dog bites, but also on what they can do to protect themselves and their loved ones from an aggressive dog.
Statistically speaking, dog bites are one of most commonly reported concerns among public health officials. Every year a total of 4,500,000 people suffer from dog bites with over 800,000 of those bites in need of medical attention. Sadly, children have more incidents of dog bites than adults and are more likely to suffer from serious injuries. There is an average of 400,000 children treated from dog bites on an annual basis.
The sponsor of National Dog Bite Prevent Week is the American Veterinary Medical Association. This event takes place in late May of each year and provides an opportunity for people to obtain more information about the dangers dog bites present, as well as to learn how to protect themselves, their pets, and their loved ones.
PROTECTING AGAINST DOG ATTACKS
One thing everyone needs to keep in mind is that no dog is exempt from biting—under certain circumstances even small dogs will bite. The key to preventing these types of incidents is developing an increased awareness and learning how to prevent dog bites. There are several things an individual can do in order to protect himself and his or her family including the following:

Make sure one acts responsibly when it comes to caring for a dog. Always keep one's dog on a leash when he or she is outdoors to give the handler better control. Avoid putting a dog in situations where (s)he might feel threatened or be subjected to teasing. Make sure the dog understands and obeys basic commands. One should always make sure to spay or neuter pets, exercise him/her on a regular basis, and keep them in good health and up to date on shots for rabies and other infectious diseases. Most importantly, never allow a child to be with a dog without an adult to supervise.
Educate children about the importance of safety around dogs even if there is no dog in the household. Make sure they understand the need to exercise caution around dogs they do not know and to avoid approaching dogs that are unknown to them. Teach children how essential it is for them to seek permission from the dog's owner or caretaker before attempting to pet him.
Be on high alert for any possible dangerous situations with dogs. Make it a point to never leave a baby or small child in the presence of any dog alone. Avoid running past a dog as this will provide a reason for them to become excited and possibly even aggressive. Never put ones self into a potentially dangerous situation by disturbing a dog that is sleeping, taking care of puppies, or eating. If a dog makes one feel threatened, stay still and most of all, remain calm.
IMPORTANT FACTS ON DOG BITES
In any given year, more than 4,500,000 people suffer from dog bites.
Nearly twenty percent of people who receive dog bites need medical attention.
On an annual basis, more than 800,000 people in the United States are treated for dog bites with at least half of those victims being children.
The most common victims of dog bites are children and tend to be more severely injured than adults.
Dogs who bite young children usually do so when the children are participating in everyday activities and while they are in the presence of familiar dogs.
The second most common victims of dog bites are senior citizens.
An individual can do a number of things to avoid being bitten by a dog such as proper training and making sure the pet knows socialization skills. Make sure children understand when or if they should approach a dog. Having proper information and education are the best ways to prevent dog bites.
Rasansky Law Firm
(214) 651-6100
2525 McKinnon Street #625
Dallas, Texas 75201