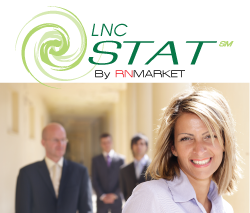 "The opportunity for nurses is there. They just have to learn how to take advantage of it."
Portland, OR (PRWEB) September 13, 2013
Big opportunities are available for experienced nurses. After years of hands-on nursing, long hours, inadequate pay, and lack of respect have taken their toll, many nurses are ready for a career change that offers a new challenge and can provide an impressive income. RN Market's LNC STAT course is the answer for these nurses. The LNC STAT course offers nurses the Advanced Legal Nurse Consultant (ALNC) certification and is scheduled for October 2-4, 2013 in Portland Oregon. With this certification, they can put their extensive medical knowledge to work in the legal field.
In the past, when medical records were involved in a case, the trend was to hire a doctor to review and interpret those records for the attorneys. However, this method was somewhat counter-intuitive because doctors do not handle medical records in the clinical setting and receive no real training on how to create and maintain medical records. Nurses are more qualified to analyze and interpret medical records because they are trained to do so in nursing school and are responsible for handling them daily in the clinical setting. The use of nurses in the legal field has recently proven to be a much better approach because they can offer a more detailed analysis at about one quarter of the price. Their extensive medical knowledge has proven to be extremely valuable in many cases that involve medical records.
With this new demand, nurses have to learn how to put their knowledge to work. The LNC STAT course utilizes a hands-on and interactive approach to teaching nurses how to secure a case, how to effectively complete a case from start to finish, how to secure more cases, and much more. Because of the personalized and hands-on approach used to teach nurses how to become Advanced Legal Nurse Consultants (ALNCs), the LNC STAT course boasts the highest success rate. Over 95% of nurses who follow the system included with the LNC STAT course and follow the recommendations from RN MARKET have received cases.
Visit http://www.LNCSTAT.com for more information about the LNC STAT course by RN MARKET.