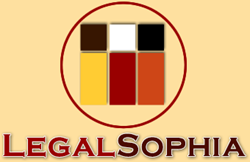 Legalsophia represents its clients as the leading practices in progressive cities across the US. Our Internet marketing campaigns bring law firms a constant influx of new clients. -George Magalios
West Palm Beach, FL (PRWEB) January 16, 2014
Legalsophia is pleased to announce its new online reputation management for lawyers to remove slanderous and negative content on the web. In today's e-commerce system, people in need of legal representation review law firms and individual profiles on the Internet before selecting an attorney. The lawyers that are represented on the web with a sophisticated web design and positive content online, earn the trust of the viewing audience. The firms that invest in web design and optimization, obtain the visibility needed to reach the largest audience and convert the highest percentage of prospective clients into new cases.
Legalsophia's online reputation management service incorporates organic SEO for law firms and guarantees clients first page rankings on Google for popular keywords like, "divorce attorney" and "personal injury lawyer". Top Google rankings for popular keywords, in competitive cities, amounts to a constant influx of new cases.
Legalsophia is a full service-marketing firm that specializes in web design, search engine optimization and online reputation management for professionals in the legal industry. Its Internet marketing campaigns include social media marketing, e-flyer services and state of the art web design for a powerful Internet presence.