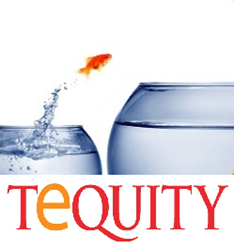 We understand and pursue the value of IP and other "off balance sheet" items that impact valuation in knowledge-based businesses.
Markham, ON (PRWEB) January 13, 2014
Tequity Inc., a progressive M&A advisory firm serving software and technology companies across North America is pleased to announce another successful transaction with the acquisition of their client, code-named "LawTech1", by an offshore buyer. Details of the transaction have not been disclosed. Tequity acted as the exclusive advisor to LawTech1.
LawTech1 is a leading U.S.-based developer of Cloud-Based and on premise legal practice management systems for small and medium-sized Law Firms. The company offers a suite of Legal Practice Management software systems designed to streamline every facet of a legal practice, from case management, document assembly, and time and billing, to debt collection, amortization and escrow accounting.
About Tequity
Tequity provides M&A advisory services exclusively to Software and Information Technology companies. Our focus is helping founder driven organizations to achieve their growth or exit goals. We assist CEO's and shareholders with divestitures, acquisitions, valuations, and exit strategies. Although our clients are predominantly North American based, our buyers are sourced from around the world, and we are especially adept at cross-border transactions as a result. Our vast network, deep understanding of the market, and ability to identify and pursue the value of IP and other items that have a significant impact on valuation in knowledge-based businesses add tremendous value to our client relationships.