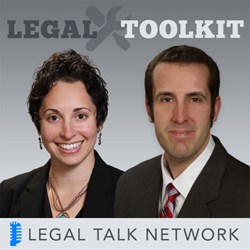 Denver, CO (PRWEB) December 31, 2013
"Legal Toolkit" hosts Jared Correia and Heidi Alexander recently invited LexisNexis team members Kris Satkunas and Mike Haysley onto their show to discuss a new trend report - Enterprise Legal Management Trend Reports, 2013 Mid-Year Edition: The Rise of "Large-Enough" Law Firms.
Full podcast - Rising Up: How "Large Enough" Law Firms are Winning the Market Share
Kris Satkunas is the Director of Strategic Consulting for LexisNexis and leads the CounselLink team in advising corporate legal department managers on improving operations with data-driven decisions. She is an expert in managing the business of law and in data mining, with specific expertise in matter pricing and staffing, practice area metrics and scorecards.
Mike Haysley is the Director of Strategic Services for LexisNexis and helps corporate legal departments manage the business of law. With more than 15 years of experience working with large legal organizations, Haysley works with an expert team at LexisNexis to advise legal departments on improving operations and results.
About "Legal Toolkit"
Legal Toolkit is a comprehensive resource for professionals in law practice management. Each month, hosts Heidi Alexander and Jared Correia invite forward-thinking lawyers to discuss the services, ideas, and programs that have improved their practices.
About Legal Talk Network
Legal Talk Network is an online media network for legal professionals. The podcasts on the network highlight important issues and information in a talk show format. They're produced by professionals and available on-demand through various channels, including on the Legal Talk Network website and via iTunes.