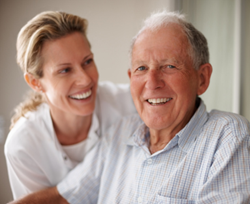 Jamie Tranter, legionella specialist said, "The health of all members of society is jeopardised by the contraction of Legionnaire's disease, however research has shown that the elderly are more at risk
London, England, UK (PRWEB UK) 14 October 2014
The world's leading legionella risk management experts are urging care homes to reassess their control strategies for Legionnaire's disease to ensure residents are 100% protected from the deadly water borne disease. The announcement comes in light of the release of the second edition of the Health and Safety Executive's HSG220 'Health and Safety in Care Homes' document, which includes a dedicated chapter on the control of legionella. While the disease is a threat to all members of society, the elderly are particularly at risk which is why Legionella Control International is advising care homes to exercise extra caution.
Jamie Tranter, legionella specialist and General Manager of Legionella Control International said, "The health of all members of society is jeopardised by the contraction of Legionnaire's disease, however research has shown that the elderly are more at risk of falling ill to this potentially deadly disease. As such, we're urging care homes to be particularly vigilant when it comes to their legionella control strategies."
As well as housing an at risk demographic, many care homes are also located in converted older buildings such as hotels, guest houses and large domestic homes. The lack of modern plumbing and presence of unused 'dead-legs' can leave such properties more susceptible to the growth of legionella bacteria.
Legionella Control International is helping care homes overcome the risk of legionella with its full range of independent and impartial consulting advice services. The first step is a complete legionella risk assessment. Here, Legionella Control International experts carry out a systematic examination of the potential risks. Not only does this help to protect employees and residents but it is also identified as a legal requirement in the Health & Safety Executive's Approved Code of Practice and Guidance L8 "Legionnaires' disease document.
The document reads, "A suitable and sufficient assessment must be carried out to identify and assess the risk of exposure to legionella bacteria from work activities and water systems on the premises and any precautionary measures needed."
Another major step care homes can take to minimise the risk of legionella is the training of staff. In fact according to the UK Health & Safety Executive, inadequate management, lack of training and poor communication are key factors contributing to outbreaks of Legionnaires' disease. Legionella Control International is helping improve standards with its comprehensive range of City & Guilds accredited legionella training courses, seminars and practical skills-based workshops.
Legionella compliance audits examine the performance and effectiveness of existing legionella risk management strategies while written schemes of control offer care home employees a practical reference document. Other services include online training, novel water systems risk assessments, expert witness and litigation support services, business continuity and crisis management, risk management software and water testing.
Tranter explains, "Our range of expert services have been specially designed to give care homes and other organisations the peace of mind that their existing legionella control systems, management strategies and staff are legally compliant with government regulations. We're here to refine risk management and ensure that care homes are safe, clean and disease free."
To find out more about Legionella Control International and how the organisation is helping to keep care homes legionella free, visit the website at: http://www.legionellacontrol.com
Twitter: https://twitter.com/LegionellaSafe
LinkedIn: https://www.linkedin.com/company/legionella-control-international?trk=company_logo
About Legionella Control International:
Legionella Control International are the global leaders in providing legionella risk management solutions. The company is operated by a team of experts providing independent and impartial consulting advice on all matters relating to the control, management and prevention of Legionnaires' disease and legionella associated risks.