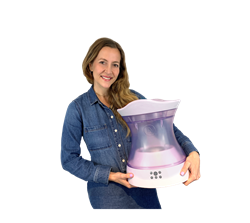 LEIAMOON enhances the comfort and intimacy of the steaming experience in a way that has never been possible before.
NEW YORK (PRWEB) June 20, 2019
LEIAMOON, the world's most functional and elegantly designed home electronic vaginal steam seat, officially launched on Kickstarter and raised over 130% of its initial $12,500 funding goal on the first day of the campaign.
LEIAMOON makes the time-honored self-care tradition of vaginal steaming safe, convenient, and easily accessible at home. The patent-pending steam seat design eliminates the more cumbersome aspects of other vaginal steaming methods, and arrives at a time when the need for more feminine self-care options is widely recognized.
"Instead of traveling to a spa or manually boiling and squatting over a large pot of water, LEIAMOON makes vaginal steaming an efficient and enjoyable process at home," said Jessica Pratt, co-founder and LEIAMOON designer. "It really enhances the comfort and intimacy of this experience in a way that has never been possible before."
As awareness of the practice has grown in recent years, many women have resorted to placing pots of boiling water inside their toilets, while others have found ways to create unique home-fashioned seats.
"We're really happy to see women steaming in ANY way that works best for them, but the biggest problems most women face are finding a comfortable way to sit for an entire steam session, which can last up to about 35 minutes, and maintaining a consistent temperature with the steam," said Pratt. "They also want a clean, private, and affordable way to do it at home, on their own terms."
With its innovative temperature control system, ergonomically crafted seat cushion, and removable herb infusion cup, LEIAMOON solves these issues and has additional features to boot, including dual FAR-infrared lights and a facial steam attachment. It's also compact and economical: At just over 14" high, LEIAMOON fits easily in most bathroom cabinets, requires only a pinch of herbs and a few ounces of water for a session, and heats up in a matter of minutes. LEIAMOON is also the only steam seat that comes prepackaged with verified organic and sustainably sourced, hand-harvested, premium vaginal steam herb blends.
LEIAMOON works for women at all stages of adult life. The seat can be used before or after a menstrual cycle; during preconception or postpartum phases; or throughout the transition into menopause and beyond.
While a single trip to the spa for a v-steam can cost $100 or more, and many home-fashioned seats on the market sell for $300-$500, LEIAMOON will retail at the competitive price point of $229, and can be pre-ordered for discounted rates starting at $137 during their Kickstarter campaign, which goes through July 18th.
For more information, visit LEIAMOON on Kickstarter or at leiamoon.com
About LEIAMOON:
LEIAMOON LLC is a New York based startup on a mission to Empower the Womb by spreading awareness about the time-honored self-care practice of vaginal steaming and making it easily accessible to any woman at home. The co-founding husband-and wife team, Jessica and Andrew Pratt, combined their strengths to form LEIAMOON when Jessica had a transformative vaginal steaming experience after attending a local women's circle in Brooklyn. As a licensed architect and former professor at the prestigious Parsons School of Design, Jessica tapped her design savvy to envision and conjure the creative elements of the LEIAMOON brand and product line; while Andrew has utilized his background in law and business (he holds a J.D. from the University of Iowa College of Law and New York real estate broker's license) to navigate growth and find new ways to serve LEIAMOON's rapidly growing community.
Kickstarter Page
http://bit.ly/2L1Dl5o
Press Kit
http://bit.ly/leiamoonpk
Contact
Jessica and Andrew Pratt
info(at)leiamoon(dot)com
515-710-9826