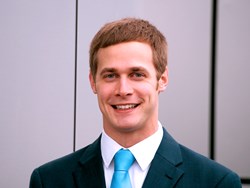 Warrenton, OR (PRWEB) February 15, 2014
LEKTRO is proud to announce the addition of Henry Balensifer III to their management team. As their new government relations & communications manager, he will advocate for LEKTRO's interests as well as lead their public relations and marketing projects. His mix of higher education and communications experience make him the perfect leader for the company's communications team.
Balensifer graduated from Warrenton High School in 2007 and George Fox University in 2011, majoring in political science and conflict resolution. In addition to having serving on numerous nonprofit boards, Henry is currently serving his second year as vice-chair of the Warrenton City Commission.
"We anticipate his addition to the team will help expand LEKTRO's market reach and bring our company to new heights of success," stated Executive Vice President Jesse Long.
Balensifer has already been increasing their influence in the aircraft tug industry by seeking out new opportunities to connect with consumers and secure government support for rural manufacturing and job creation. LEKTRO has been providing all-electric solutions since its inception in 1945. Building on its innovative foundations, LEKTRO unveiled the world's first towbarless aircraft tug in 1967 and has continued to be an industry leader with its all-electric, towbarless tow vehicles.
About LEKTRO:
LEKTRO, Inc is a family-owned business based on the premise that hard work and quality materials combine to produce stellar results. Building on the foundation of innovation begun by the late Wilt Paulson in 1945, Wilt and Violet's son Eric has shepherded the company to world-wide reach and continuous expansion into new and more challenging marketplaces. More information is available here.