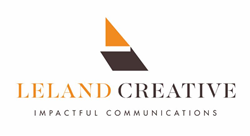 Watch for lots of changes coming from Leland Creative
Beverly Farms, MA (PRWEB) September 29, 2016
After calling Salem, Massachusetts its home for 11 years, Leland Creative has decided to pack up and move the its offices to a better space in the thriving business/retail community of Beverly Farms, Massachusetts.
As of October 1 you can find us at:
721 Hale Street
Beverly Farms, MA 01915
Watch for lots of changes coming from Leland Creative as they also begin to update their branding to better showcase the full range of services that they provide for their clients. In addition to traditional design and creative, they now have expertise in helping businesses grow. This includes services such as: Strategy & Planning, Media Buying, Email Campaigns & Content Strategy, Web Design & SEO/SEM/PPC, Systems Integration and more.
About Leland Creative
Since 2005, Leland Creative has been connecting brands with their customers by getting to know their clients, who they are, what they sell and who they are selling to. Communication does not "just happen." An effective communication plan requires an effective marketing strategy which starts with a strategic plan involving marketing research, and developing a marketing mix to captivate prospects and customers.
At Leland Creative, they believe every company needs to have clear marketing objectives, and the best way to achieve ROI and company goals will depend on what type of strategy is put together. Creating the strategies that generate growth and awareness in sales for their clients is where things get challenging and fun!