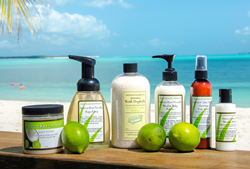 In the last three years, we've seen tremendous growth in the eastern half of the nation...
Pine, CO (PRWEB) March 19, 2014
Explosive growth leads Lemongrass Spa Products, a direct-selling skin care company, to expand its operations to include a second manufacturing and distribution center. Beginning in May 2014, Lemongrass Spa Products will take possession of a 10,000 square foot warehouse and office facility in Tarpon Springs, Florida.
"In the last three years, we've seen tremendous growth in the eastern half of the nation and adding a second facility in Florida will allow packages to reach our customers in two to three days on average where it was taking four or five before", said Bryan Leist, President and COO. "Less transit time will mean our packages will be less susceptible to weather-related delays and the risk of damages will be mitigated by spending less time in the shipping system", Mr. Leist also stated.
Lemongrass Spa Products will maintain its current facility in Pine, CO, which will allow the organization to continue to provide expedited shipping services to the western portion of the country. Heid Leist, Lemongrass Spa Products Founder and CEO commented, "In addition to maintaining our level of service to our customers in the west, we owe a tremendous debt of gratitude to our employees here in Pine. Without their dedication, commitment to excellence in producing a quality product and loyalty to a blossoming company, we wouldn't be where we are today. Therefore, it's extremely important to maintain a presence in the community and provide employment for such a wonderful team of individuals."
In business since July 2002, Lemongrass Spa Products currently has over 1,500 independent sales consultants in all 50 states and the District of Columbia. Lemongrass Spa Products takes pride in hand-crafting natural and organic skin care and make up products using only the highest quality ingredients free from phthalates, triclosan, unnecessary fillers and other harsh chemicals. With the increased demand for natural and organic products, the company is well positioned to become an emerging leader in the skincare segment of the direct selling industry.
If you would like to find out more about Lemongrass Spa Products, you may visit their website at http://www.lemongrassspa.com or contact their main office at 303.838.6336.