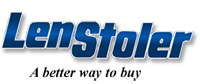 Westminster, Maryland (PRWEB) September 29, 2013
Baltimore car dealers, as part of the Len Stoler Auto Group, are bringing customers multiple options for their many popular vehicles. With plenty of options for consumer cash and bonus cash, shoppers may be able to save more than they think as the Len Stoler Auto Group is a "Better Way to Buy".
Along with special cash promotions, shoppers may be able to take advantage of new APR financing and other available leasing options, which are always available for customers at Len Stoler.
"Our dealerships all look forward to delivering what our shoppers are looking for, and with the many options for bonus cash, customers may find great savings," said Jared Leibowitz, eCommerce Director at Len Stoler Auto Group. "Shoppers are welcome to visit any of our dealerships to find exactly the right model."
The cash offers that are available may be available on the following vehicles:

2013 Chrysler 300 with up to $2,500 consumer cash and up to $1,500 bonus cash
2013 Chrysler Town & Country with up to $1,500 consumer cash and up to $2,500 bonus cash
2013 Dodge Challenger with up to $2,000 consumer cash and up to $500 bonus cash
2013 Jeep Patriot with up to $1,000 consumer cash and up to $1,500 bonus cash
Baltimore car dealers like those as part of the Len Stoler Auto Group are all standing by to help customers find what they need at a price that works for their budgets as they all offer a "Better Way to Buy".
Some of the benefits that shoppers can find at Len Stoler dealerships include:
Free carwashes
Oil changes for life at Len Stoler Hyundai dealerships with the first two free at all other stores (except Porsche/Audi)
A free personal assistant for every customer
And 0 percent financing on all service repairs (for qualified customers)
Customers from Baltimore, Woodlawn, Lochearn, Pikesville, Catonsville, Westminster, Owings Mills, Cherry Hill and beyond are welcome to visit Len Stoler Auto Group dealerships to take advantage of the specials that are available.
For more information on the local Baltimore car dealers as part of the Len Stoler Auto Group, visit http://www.lenstoler.com or by contacting any of its 13 dealerships or call 866-206-0411.
Len Stoler Auto Group firmly believes customer service begins well before a shopper enters the showroom, and as a result of this belief, the Len Stoler Auto Group has created a user-friendly website that offers information for all of its 13 dealerships, where customers can browse vehicles, view promotions and learn more about each brand. Len Stoler Nissan of Westminster is conveniently located at 1115 Baltimore Boulevard in Westminster, MD 21157.
PR Company: Nexteppe (http://www.nexteppe.com):
Nexteppe provides dealerships with a dedicated support team and a full suite of all-in-one products including InControlPro, Comment Builder and ProSHOTS. Take your dealership inventory marketing and management to the next level with Nexteppe. Learn more about how we can enhance your website's design and enhance your inventory marketing and management by visiting us on the web or calling our New York office at 888-572-8892.