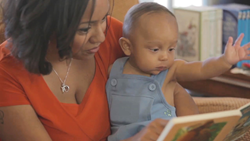 "The LENA Start model is laser-focused on simple, practical ways to help parents improve talk with their babies," said Dr. Stephen Hannon, president of the LENA Research Foundation.
Boulder, Colo. (PRWEB) March 24, 2015
The Huntsville, Ala., City School District and the LENA Research Foundation have announced an initiative to address the cycle of poverty and improve school readiness by encouraging parents to improve the quantity and quality of language spoken with their children. LENA Start™ features Smarter Happier Baby™ parent classes in English and Spanish that employ LENA "talk pedometer" technology to measure home language. The Huntsville program will kick off in May with two parent centers at different locations and will expand in the fall.
Smarter Happier Baby classes help parents of infants and toddlers (0-30 months) close the "talk gap." Research indicates that academic achievement gaps result because underprivileged children tend to experience millions fewer words and conversations than more affluent children during these critical early years, when babies' brains are growing to 80% of their adult size. Smarter Happier Baby provides a short series of instructional meetings where parents learn to use the LENA System™ to monitor the home language environment, and how to increase interactive talk with their children.
"We're proud to be the first school district in the nation to offer LENA Start and Smarter Happier Baby to our community," said Dr. Casey Wardynski, Huntsville City Schools superintendent. "Over the past three years we have made a substantial investment in Pre-K programs to foster school readiness. We view our new partnership with the LENA Foundation as a vital next step in ensuring new students are ready to learn. By partnering with the LENA Foundation we anticipate that we will be able to increase the frequency and complexity of dialog parents have with children age 0 to 30 months and thereby foster a rich language environment during this critical period of a child's brain development."
The Huntsville initiative marks the second large-scale adoption of the LENA Start model, developed by the LENA Research Foundation through more than two years of piloting with parents. The initial implementation, announced in February, will be by the San Mateo, Calif., County Library. The foundation is discussing additional locations across the country for fall 2015 and spring 2016, with agencies ranging from school districts and public-service organizations to municipal government and health-care providers.
"The LENA Start model is laser-focused on simple, practical ways to help parents improve talk with their babies," said Dr. Stephen Hannon, president of the LENA Research Foundation. "Focus is extremely important, now more than ever. More than half the children coming into America's schools today are low income, and the data show that they disproportionately start school under-prepared. Early language is the starting point in turning that around. The Huntsville team understands that, which is why we're thrilled that they're the first school district to use LENA technology and Smarter Happier Baby classes to help their parents help their children."
The patented LENA System records language throughout a child's day, then translates the recording into data that show parents how much they're talking so they can improve, and how they are progressing. Smarter Happier Baby adds an instructional program consisting of 8 one-hour, motivational parent group sessions, using engaging videos, presentations, and written materials in both English and Spanish. Focused on parent behavior change, the program encourages reading with children, singing with them, and using "Talking Tips" to increase interactive language throughout the day. Take-home materials include free books for shared reading with children. Graduates of the 8-week sequence return for monthly reinforcement sessions for up to a year.
Developed at a cost of more than $40 million contributed by co-founders Terrance and Judith Paul, the LENA System is deployed worldwide in research, clinical uses, and early childhood programs. In creating their own intervention model, LENA factored years of research and experience partnering with interventionists using LENA technologies, in programs like the Thirty Million Words® Initiative in Chicago and Providence Talks in Providence, Rhode Island, as well as LENA's own pilot programs in Colorado. LENA Start was officially announced in October in Washington, DC, at a symposium on Bridging the Word Gap organized by the White House Office of Science and Technology Policy.
####
About the LENA Research Foundation
The LENA Research Foundation is a 501(c)(3) public charity based in Boulder, Colorado. Its mission is to accelerate language development to improve the cognitive, social, and emotional health of children birth to five and close achievement gaps. Used by researchers and clinicians all over the world, the LENA System™ measures a child's language environment and provides vital feedback to parents and professionals in programs dedicated to closing the language, learning, and opportunity gap for underprivileged children. For information on the foundation or LENA Start, contact Beth Dresser at 303-441-9048, or email bethdresser(at)lenafoundation(dot)org.
About Huntsville City Schools
The Huntsville City School System is one of the premier school districts in the state of Alabama, serving more than 23,000 students with 103 schools including 64 Pre-K programs. Its mission is to guarantee that every student will graduate with the capacity to compete successfully and contribute responsibly in a global technological society. For more information on Huntsville City Schools please visit huntsvillecityschools.org. For more information on the implementation of the LENA program, contact The School Readiness Department at 256-428-6886.